Smoothie-making is a great way for kids to experiment with creating their own recipes. Adding ingredients and tasting as we go is the part my kids like the most. We almost always end up with a delicious smoothie! My 10-year-old is excited to share her favorite smoothie recipe with you – a rich and filling chocolate peanut butter banana smoothie.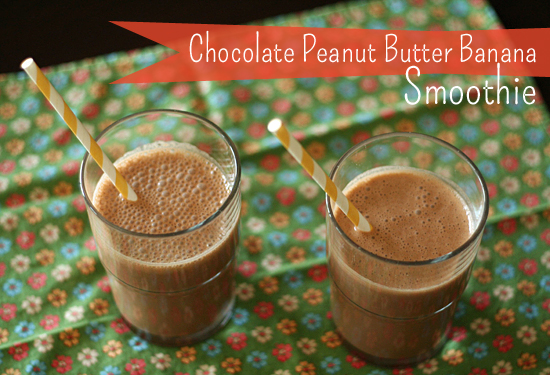 Ingredients for Chocolate Peanut Butter Banana Smoothie:
2 cups milk of your choice (we used unsweetened vanilla almond milk)
2-4 Tablespoons of peanut butter, preferably natural with no added sugar
1 frozen banana
2-3 Tablespoons of cocoa powder
1-2 Tablespoons of maple syrup (sweeten to taste)
The only advance work this recipe needs is freezing bananas ahead of time. I usually buy an extra bunch of bananas, let them get super-ripe for maximum sweetness, and then freeze in halves. If you don't have a super-powerful blender, slice your bananas before freezing for easier blending.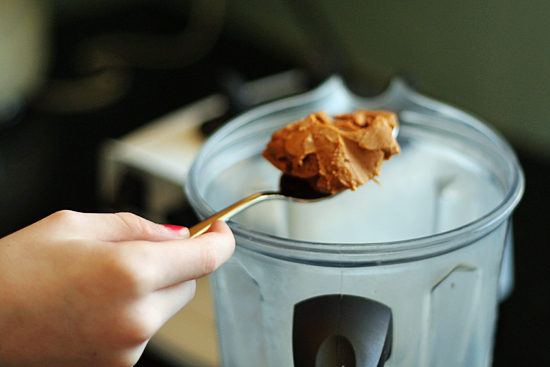 Add all your ingredients to the blender and blend till smooth. Taste, and make any adjustments. I thought our smoothie was sweet enough with 1 Tablespoon of maple syrup, but my 10-year-old thought 2 Tablespoons would be even better. We went with her sweet tooth this time!
For a thicker smoothie, add more frozen banana, or reduce the milk a bit, maybe 1/2 cup less.
Makes about 3 cups of smoothie, which is 2 generous servings, or 3-4 smaller servings.
I can usually sneak one of these optional nutrition boosters into this chocolate smoothie without any complaints from the kids:
1 Tablespoon chia seeds
1 Tablespoon ground flax seed
a handful of baby spinach
1/2 – 1 teaspoon of black strap molasses
Do you and your kids enjoy concocting smoothie recipes at home? Share your favorite ingredients in the comments!
Happy cooking!
Want to know how to get 50-70% off your fancy blender? Check out Blendfresh! When you sign up you get big discounts on Blendtec appliances and these really yummy fresh dried fruits and vegetables to use in your smoothies and baking!