Can you believe that the summer has come to a close and that the new school year is arriving? Maybe where you live school has already started, but where I live in New York, there's about a week left to go until schools are officially in session.  I remember when I was little (and not so little) that I secretly loved when school started.  I liked my summer vacations and all, but I really loved going back to school. I loved picking out my outfit for the first day, shopping for all my school supplies, and when I was older, I loved picking all my classes.  My excitement for school usually would die down a little bit as more and more homework was assigned, but I always loved the first day.  Catching up with friends over lunch was always fun, especially in elementary school when I brought lunch.
My mom always packed me a nice lunch to take to school, usually consisting of a sandwich, a juice box, fresh fruit, and a sweet treat for dessert, usually some mini muffins or brownies.  Those were my favorite, but I also loved the occasional Rice Krispy treat.  I didn't get those in my lunch box as often, but they were always a very welcome change!  I loved their sweetness and chewy texture, and when I found out last year just how easy they are to make, I couldn't believe I hadn't tried to make them sooner.  Cereal treats are such a great treat to make because they're easy to make, don't require you to turn on the oven, and can be customized exactly to your liking.  They're great little indulgences to bring along to work or pack in a your little one's lunch box.
These cereal treats are super easy to make and would be a great snack to make with kids. Butter, marshmallows, and chocolate are melted together until they're smooth, and then kids will have a fun time helping stir in the Cheerios.  I thought chocolate cereal would be a great combination with the peanut butter and marshmallow filling, but you can switch out the Cheerios for whichever cereal you like best.  I stirred in some chocolate chips, which melted and formed big chunks of chocolate scattered throughout the cereal bars.  The bars ended up being pretty thick, so you could easily cut them into squares and still have a nice sized treat or cut them into bars if you're really looking to indulge. The treats last a couple of  days when wrapped in plastic wrap and kept in the fridge, but since these cereal treats are so good, I don't think they'll last that long!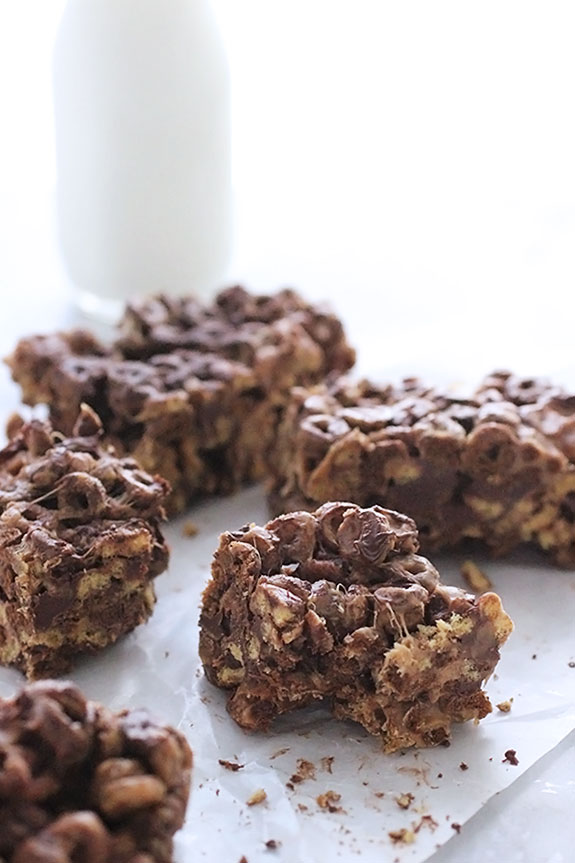 Chocolate and Peanut Butter Cereal Treats
Ingredients:
1/4 cup (1/2 stick) unsalted butter
10 oz marshmallows
3/4 cup creamy peanut butter
pinch of salt
6 cups chocolate Cheerios
1 cup chocolate chips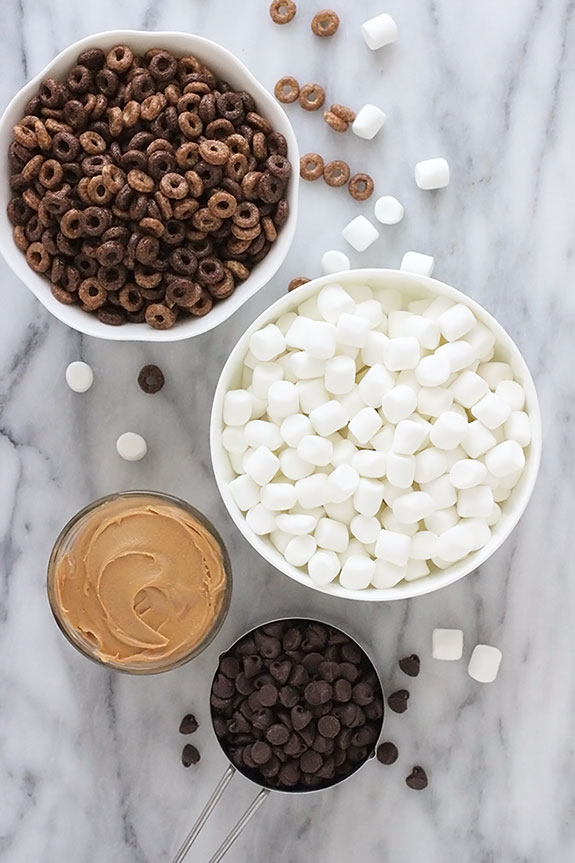 Directions:
In a large saucepan set over medium heat, melt the butter.  Add the marshmallows, peanut butter, and salt and stir together until everything has melted and become smooth.  Remove the saucepan from the heat, and stir in the cereal.  Set the mixture aside for 4 minutes to cool slightly.  Stir in the chocolate chips.
Pour the cereal mixture into a 9×9-inch square pan that's been lined with aluminum foil (with a 2-inch overhang) and lightly sprayed with nonstick spray.  Press the cereal mixture into an even layer.  Set the pan aside to cool completely, about 20 minutes.  Once completely cooled, lift the cereal bar out of the pan using the foil overhang.  With a sharp knife, cut into bars or squares. Enjoy!