Chocolate Zucchini Bread helps lead the transition from the end of summer into fall. With flavors of cinnamon and nutmeg mingling with chocolate, the bread is both sweet and spiced. The zucchini flavor manages to stay subtle, hiding beneath the other flavors and aromas, but provides a moistness and tenderness to the final product.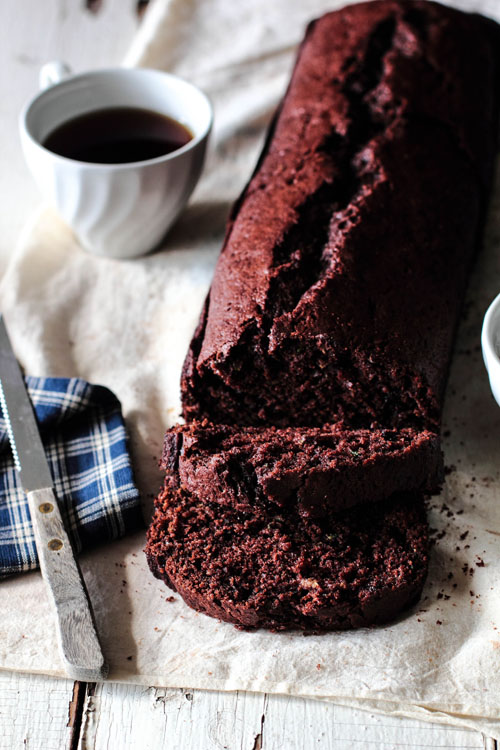 With the end of the harvest season near, I've been trying to snatch up the last of the produce from the farmer's market before the frost sets in. Last weekend, with a chance of snow in the forecast, I gathered up as many tomatoes and zucchini as I could fit in my basket and brought them home. While the tomatoes found themselves in a sauce, I felt the zucchini would be better suited towards satisfying my sweet tooth.
I grated it and tossed it into a breakfast loaf, creating a satisfying bread to celebrate the changing of the seasons.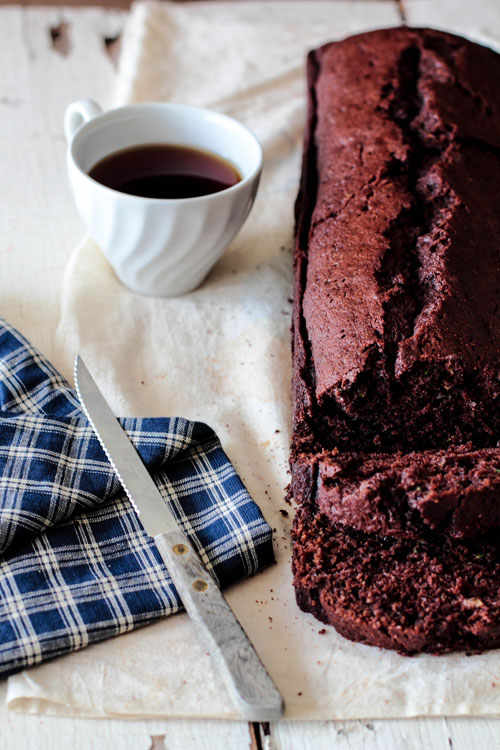 This bread is versatile, lending itself well to adaptations. While I added a cup and a half of chocolate chips, nuts or dried fruit could easily be substituted instead. Whatever your preferences may be, with a little cocoa and hidden squash, this bread can make it happen. Chocolate Zucchini Bread makes for a lovely breakfast or an enjoyable afternoon snack.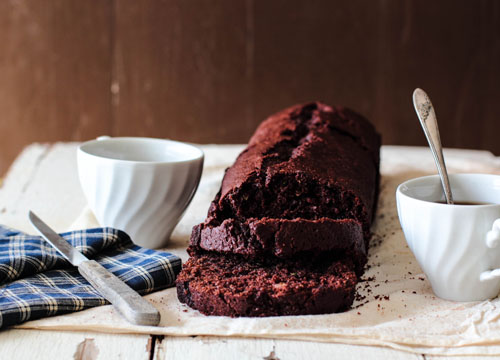 Chocolate Zucchini Bread
Yields 2 loaves
Ingredients:
3 large eggs
1 cup vegetable oil
1 1/2 cups brown sugar
2 teaspoons vanilla extract
2 cups grated zucchini (about 2 medium zucchini)
1 tablespoon cinnamon
1/2 teaspoon nutmeg
1 teaspoon baking soda
1/2 teaspoon baking powder
3/4 teaspoon salt
2 1/2 cups all-purpose flour
1/2 cup cocoa powder
1 1/2 cups chocolate chips, nuts, or dried fruit (optional)
Method:
Preheat oven to 350 degrees F (175 degrees C). Grease 2 9×5-inch loaf pans.
In a large bowl, whisk together the eggs, vegetable oil, brown sugar, and vanilla until well combined. Stir in the grated zucchini. Mix in the cinnamon, nutmeg, baking soda, baking powder, and salt. Fold in the flour and cocoa powder in 3 batches, mixing until the batter becomes uniform. Stir in the chocolate chips.
Divide batter evenly between prepared pans and bake for 50-60 minutes, or until a tester inserted in the center comes out clean. Let the bread cool in the pans for 10 minutes before transferring to a cooling rack. Cool completely before slicing and serving.