I love to make suckers, or lollipops as some say. This is another fun treat that I would beg my Mom to help me make for friends for the Christmas season. My Mom has a lot of treats up her sleeve.
My mom purchased these sucker molds many many moons ago and they look very ancient. But they work great. I also made some that don't use molds and they were fun. To purchase some stainless steel mold like these, check Get Suckered or Sugar Craft.
You need to get everything ready before you start, because once your sucker liquid is hot and ready, things get moving fast. You need, molds, sticks, a couple of spoons, flavoring, food coloring, sauce pan, candy thermometer, and a pan lined with wax paper. Okay, that seems like a lot of stuff, but it is all worth it.
Get your molds set up, sticks and all. This recipe yields close to 24 suckers. Sticks come in all sizes. Walmart sells them, and most other craft stores. You will also want to have your food coloring and flavoring on hand and ready. My favorite flavors were always cinnamon and watermelon. But there are many others available too. You can get them at cake and candy stores, even Walmart and Roberts sell them. They are tiny bottles, but you don't use that much.
Here is the recipe for Lollipops:
2 cups sugar
2/3 cup light corn syrup
1 cup water
Combine the ingredients in a sauce pan and place over medium high heat. Stir until the sugar dissolves and have your candy thermometer ready. The thermometer will read "Hard Crack" when you know to turn off the heat and remove the pan from the heat source. When the liquid is ready, add 1/2 tsp. flavoring and 5 drops of food coloring. **Only do one flavor and one color at a time. I tried to split the batch and it was a lot harder than I thought. Next time I will just make one batch for each flavor and color.** It will fizz a little and smell strong, but it is perfect for the suckers.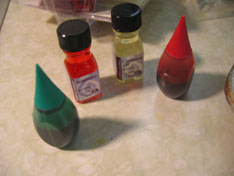 Now you will pour the lollipop liquid into the molds. Don't over do it. And if you spill a little here and there, it is okay. The strings that are left will harden and break off, they are a little treat. You can see that I just poured some of the lollipop liquid onto the wax paper, over the stick. They are fun and worked out good too. Then, once all of your molds are filled and the liquid is gone from the pot, let the suckers set. It doesn't take very long, maybe 10-15 minutes. Test them by trying to pop them out.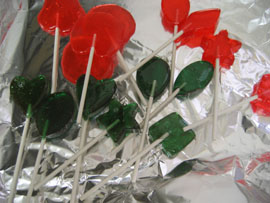 They are quite the mouthful, but so, so delightful. Enjoy!