I love the Dollar Store. I go there every few weeks to see what little "treasures" they have. Especially at Christmas time with great stocking stuffers for everyone. I also found these fun Christmas Tree Ornaments that are called Sun Catchers. I remember painting these as a kid once. So for $1, I had to pick up a pack for my kids to paint.
It comes with everything you need. I let the kids choose which ones to paint, then we went for it. The paint is gloppy, but dries perfect no matter how much gets plopped on.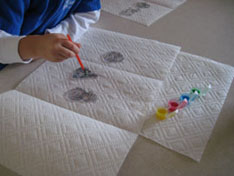 After a couple of hours, they are dry and ready to hang. We hung them on our tree that has our Fruity Garland strung on it.
Go hit up the Dollar Store and come back to tell me what treasures you found!!