Baking and decorating cookies is a Christmas tradition that we definitely follow and enjoy every year, regardless of age! We just look forward to baking together, all 3 generations.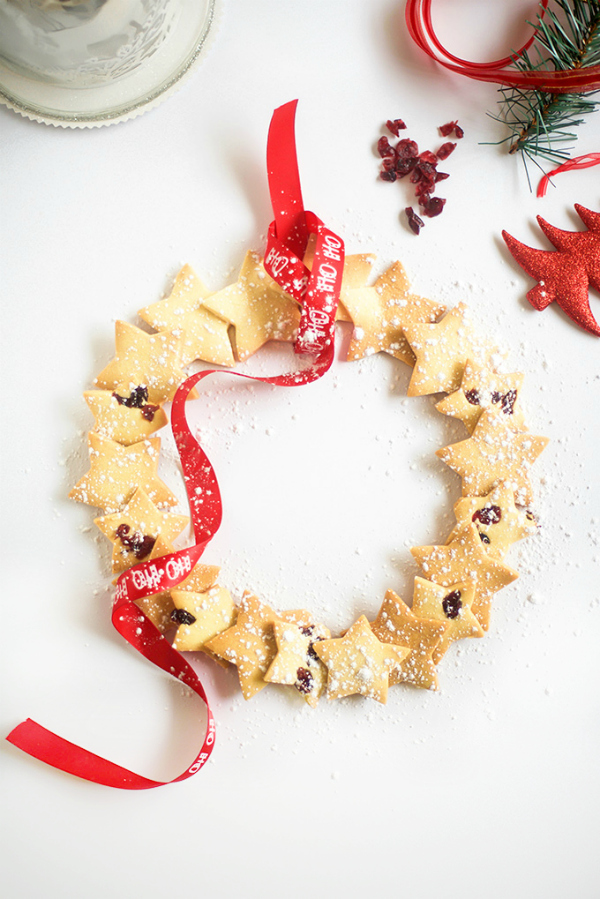 And when cookies are involved, it is so easy to get kids to help in the kitchen! Yes, that's the magic word: cookies! They will drop anything they are doing and come running :) After all, the reward is so precious: dozens and dozens of cookies, not to mention the excitement around icing, frosting or powdered sugar when it comes to decorate them.
This year, one of our special baking projects was making a Christmas Shortbread Star Wreath! So easy and so perfectly Christmas looking, don't you think?! You should definitely include it in your baking list this year. Not only will be ready in almost 40 minutes, it is also super easy to put it together.
In its most basic form, shortbread cookies are made with just four ingredients, that you may already have in your fridge/ pantry: butter, sugar, flour and vanilla extract. I have added some dried cranberries to half of the batch to make it looking more festive :)
The secret to making a good shortbread is to use a good quality butter and pure vanilla extract. Their melt-in-your-mouth texture is a direct result of the butter used in these fantastic cookies. Everyone will love them!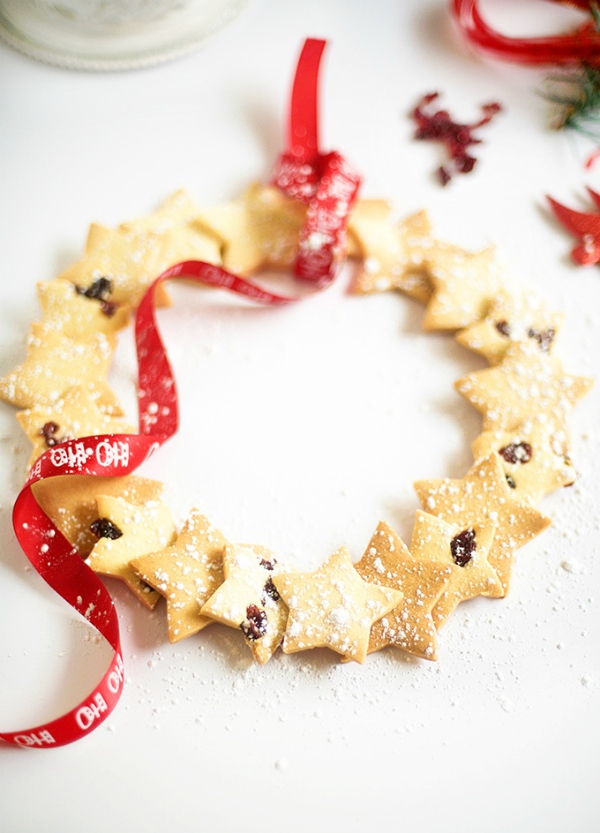 Christmas Shortbread Star Wreath Recipe
 2 cups (260 g) all-purpose flour
 2 sticks (226 g) unsalted butter, at room temperature
1/2 cup powdered (confectioners or icing) sugar
1 teaspoon vanilla extract
2 tablespoons dried cranberries, roughly chopped
a pinch of salt
Method:
Preheat the oven to 350F/160C. Line with baking/ parchment paper a large baking tray and set aside.
In a large bowl, add butter and sugar and beat them together, using a hand mixer until just combined. Add the flour, cranberries and vanilla essence and mix until a rough dough forms. Transfer the dough onto a lightly floured surface and gently knead until smooth.
Roll out the dough between 2 sheets of baking paper until it is 1/2 inch/1cm in thickness. Peel off the baking paper and using a star shaped cookie cutter, cut stars from the dough. Add 4 stars to the baking tray in a semicircle, overlapping the corners slightly and press down on the corners gently to seal. This way, you can tie some ribbon when serving. Add the rest of the stars to the baking tray leaving small spaces between them.
Bake for almost 15 minutes or until the stars turn light golden. Remove from the oven, set aside and allow them to cool completely before assembling the wreath.
To assemble, add the top part of the wreath to a large serving plate and add shortbread stars to complete the circle, overlapping the corners slightly. Tie a Christmas ribbon at the top of the wreath, sprinkle generously the cookies with icing sugar and serve!