Yes….summer is practically here. I've had picnics on my mind. We had one picnic during Spring Break and it was super fun. I love being able to sit outside in the sun and enjoy a meal with my friends and family. I'm thinking of  fun things we could take along besides the usual peanut butter and jelly sandwiches. This cold salad would be the perfect addition to any picnic or BBQ. It's flavorful and full of fresh, crunchy veggies. And easy to take along. The creamy tahini dressing is outrageously good. So healthy + flavorful + delicious = winning!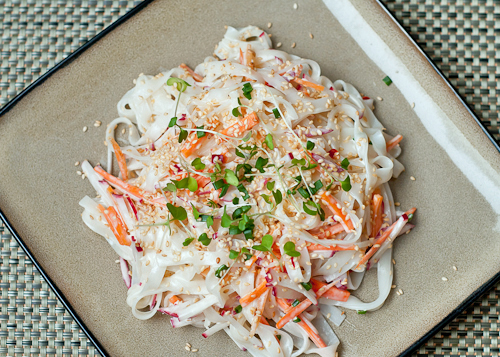 In this salad, I've used radishes and carrots I got from my local CSA. Feel free to change it up with different veggies, or add more. Celery, broccoli, water chestnuts, baby corn, cucumber, zucchini, tomatoes, and shredded cabbage would be great additions. Possibilities are endless with this tasty veggie salad.
Cold Rice Noodle Salad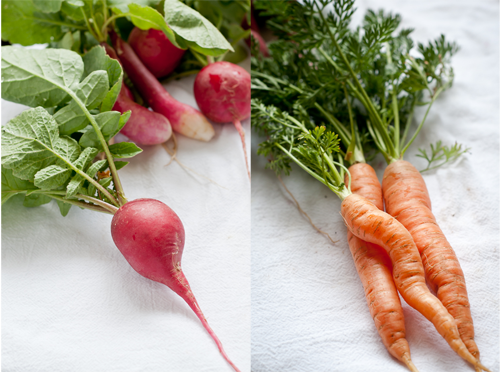 I sprinkled the top with toasted sesame seeds, green onions, and broccoli microgreens.  If you can't find broccoli microgreens, substitute bean or alfalfa sprouts.
Cold Rice Noodle Salad with Creamy Tahini Dressing
Ingredients:
For dressing:
4 Tbsp. homemade or store-bought mayonnaise (for vegan, use veganaise)
1 Tbsp. rice wine vinegar
2 tsp. sugar
1-2 tsp. tahini, to taste
1/2 tsp. sambal oelek (garlic chili paste)
1/2 tsp. salt, or more to taste
For salad:
6-7 oz. cold rice noodles, prepared package directs (mine required soaking in hot water or boiling)
3 small carrots, scrubbed clean or peeled, julienned
4 large radishes, scrubbed clean, julienned
optional garnishes–toasted sesame seeds, sliced green onions, microgreens or sprouts
Method:
For dressing:
Whisk all ingredients together and taste. (It should be concentrated and salty because the salad ingredients are not.) Set aside until ready to assemble salad.
For salad:
Place cold noodles and julienned vegetables in a medium bowl. Pour the dressing over the top and toss to coat. Place a good-sized portion on a plate and garnish with the sesame seeds, green onions, and microgreens.
Serves 4.
*For a lunch, the salad alone would be great. For a heartier meal, serve with chicken, seafood, or marinated tofu.
SaveSave