What is this cornstarch stuff, you ask? They are biodegradable packing peanuts made out of cornstarch, great for the environment. My kids just went to our local library and did a fun project there that used these cornstarch packing peanuts to make fun animal pets.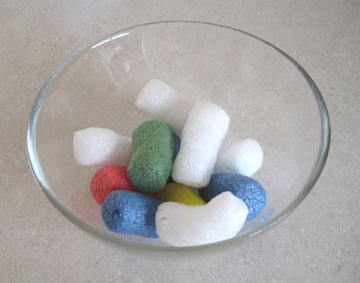 First, you dip the cornstarch peanut onto a sponge that is soaked in water. (Don't dip the peanut directly in water or it will dissolve and be mush.) Then stick two peanuts together. They start to take shape and you can put more together to make really any shape you want. We made a snake and a horse. After they made their animals, they pulled them apart and made something new. You could use them to make a rocket, or house, or flowers.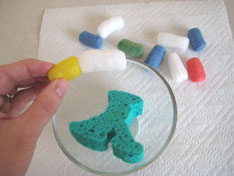 To get your own Cornstarch Packing Peanuts, you can usually get them in white from an office supply store, or order them in white and in color at an online packaging supply place. Also, Magic Nuudles is a company that sells them online, as well as showing lots of different projects to be made. Or here's some at PeekaGreen too.