With the winter weather upon us, I wanted something warm and comforting. Creamed polenta is my go-to comfort food. Whether it's cold or warm outside, it doesn't matter–I almost always want polenta. My favorite way to eat it is topped with beans and greens.  Any kind of beans with any kind of greens. So I pulled up my sleeves and in about 20 minutes I had a satisfying, warm bowl of healthy food to help me feel better.
White Beans in Creamed Polenta
I never really made creamed polenta until recently, when I started using my dear friend Jen's  recipe.  It was one of those "where have you been all of my life?!" moments.  I love the extra richness of the creamed polenta.  It is even more comforting that way.  Because I don't eat much dairy anymore, I have included substitutions I use at home and their dairy equivalent.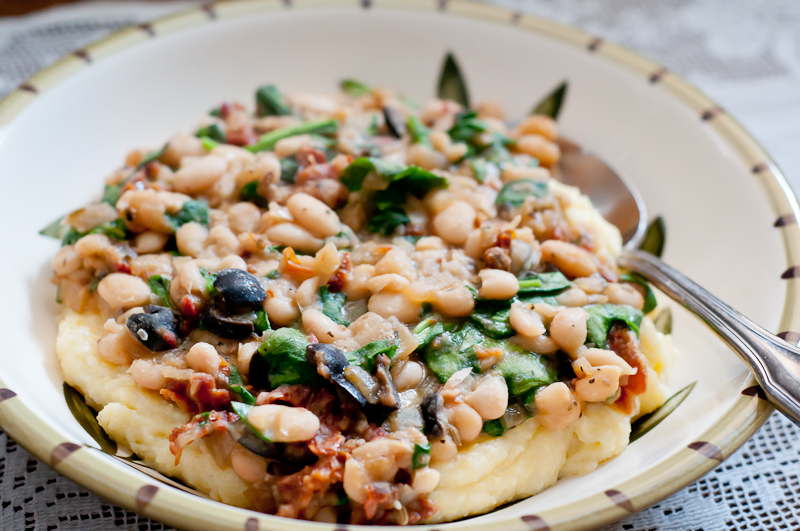 Creamed Polenta with White Beans and Spinach
adapted from delightful delicacies
makes 4 servings
Ingredients:
For polenta:
4 cups water, plus more if necessary (can use 2 cups milk for part of the water)
1 cup instant polenta*
1/2 tsp. sea salt
1 Tbsp. butter, olive oil, or dairy-free margarine (Earth Balance)
1 Tbsp. nutritional yeast** or 1/4 cup grated parmesan or romano cheese
2-4 Tbsp. coconut cream or heavy cream
For white beans:
2 cups cooked (or canned) white beans, drained
1-2 tsp. extra virgin olive oil
1 small onion, diced
2 Tbsp. chopped black olives (about 8 large)
1 Tbsp. oil-packed sun-dried tomatoes, drained and chopped
1/2 tsp. fennel seeds (optional)
1/4 tsp. each: dried rosemary, thyme, basil, oregano
red pepper flakes, to taste
salt and pepper
2 cups baby spinach, roughly chopped (kale, chard, or collards)
Water
Method:
For polenta:
Bring the water (and any milk, if using) to a simmer in a 3 quart saucepan or pot. Add the salt and slowly whisk in the polenta. Cook on medium heat for about 10 minutes, or until it has thickened and starts coming away from the side. (If you like a thinner, soupier polenta, add more water or extra milk.)
Remove the pot from the heat. Stir in the butter, nutritional yeast or cheese, coconut or heavy cream, and taste. Add more salt if needed. Transfer to a bowl and keep warm until ready to serve.
For beans:
Heat the olive oil in a skillet and add the onion. Cook over medium heat for about 5-10 minutes, or until the onion starts to turn golden. Add the olives, sun-dried tomatoes, fennel seeds, and dried herbs. Continue cooking for a few minutes until onions are completely cooked and the flavors have melded. Add the beans and bring to a simmer. If the skillet is too dry, add a little water. Right before serving, remove the skillet from the heat and add the spinach. (You don't want to overcook the spinach, just wilt it. If you're using another heartier green, then cook for a few minutes until the greens are tender.)
To serve:
Spoon some of the polenta into a shallow bowl. Top with the beans and spinach. Serve hot.
*Look for polenta in the bulk foods section of natural food stores or packaged in the baking section of most grocery stores.  Non-instant polenta will take about twice as long to cook.  A little extra water can be added for a thinner texture.  Polenta might also be labeled as cornmeal.  But look for the kind that isn't finely ground into flour.  Stone-ground is the best kind.
**Nutritional yeast is a popular vegan and vegetarian condiment.  Read more about it here.  It can also be found in the bulk section of natural food stores.