Even though we're busy with our kids all day, sometimes we miss the opportunities to just 'be' with them, developing the relationship. With work, school, play dates, meals, and bed times, we can sometimes over look the need to strengthen our relationships with our kids. Crafting can be a great way for you to develop your relationship with your child in a fun and encouraging way.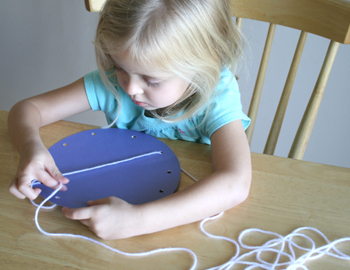 Here's 3 ways to develop your relationship with your kids through crafts!
One-on-One Attention – Kids love attention and they need it from loved ones. Doing crafts or projects together with your kids can let them know you care. Even if you're just sitting in a chair next to them while they construct a tower or a flower, they love to know you're near.
Problem Solve Together – If you're toddler is ready to use scissors, your 1st grader is trying to read instructions, or your teenager is beading a bracelet, you can use this time with your child to see how they problem solve. While crafting or completing a project, we can see what skills our kids are using and what skills they can better develop. Take this time to observe their behavior and when to intervene or let them try and figure it out themselves.
Just Talk – Creating a friendly and fun environment can lead to an open communication with your child. If you're sitting side by side together working on a project, ask them about their day, about school, about friends, and just talk. See what's on their minds, what's bothering them, what their needs are. This can be a great way to get to know them better, finding out more of their interests. If they're comfortable sitting with you crafting or creating, they may be more comfortable to talk with you about things that are on their mind.
Here's a few fun kids crafts that can help develop your relationships with kids:
What are some of the best crafts and projects you like doing together with your kids, young or old?