You can't have the holidays without a few baked treats in the mix. We're making fun and festive Crescent Roll Christmas Trees for a delicious dessert. These are a perfect treat to make as you decorate your Christmas tree or after you head out with the family on an ice skating adventure!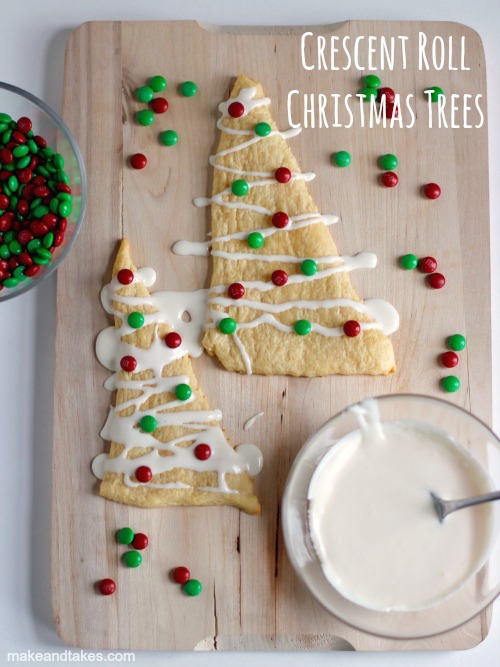 We've also created these bread dough wreath balls and trees for the holidays. Or even use up some left over Pie Crust Scraps for treats. They make great gifts!
Supplies for Crescent Roll Christmas Trees:
crescent roll dough – we used the kind from a can, but your own recipe works great!
baking pan
cream cheese frosting
red and green chocolate candies
spoon or plastic bag for drizzling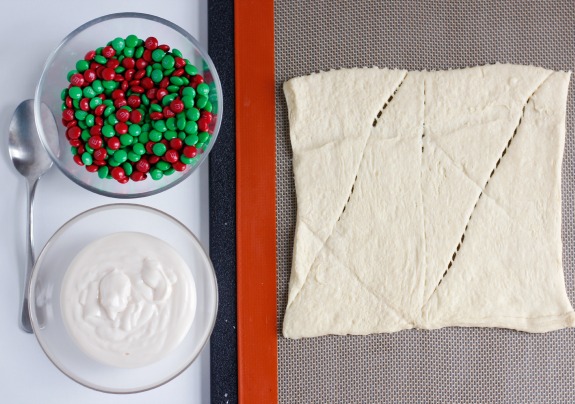 1. Lay out your dough in triangles onto a baking pan. If using the crescent rolls from a can, they are already in the perfect triangle shape. I actually kind of like that they are a little wonky, just like a real tree. If you want them smaller, use a pizza cutter to slice them diagonally in half.
2. Bake for 9-11 minutes at 375 degrees. NOTE: If you bake them for too long, they will over cook and be crispy. But my son loved those too, so maybe it's not bad too over brown a little.
3. Once baked and cool to the touch, drizzle your frosting onto your trees in a zig-zag pattern, representing a string of lights. To help get your frosting more drizzly, melt it in the microwave for 10 or so seconds.
I just used a spoon to drizzle. You could also put your frosting in a piping bag or a plastic bag with the corner cut off.
4. Add your colored chocolate candies to your tree. I like these mini m&ms, they are the perfect size for a tree treat!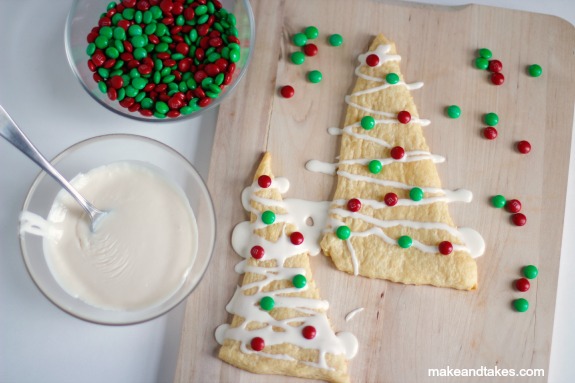 Have fun decorating desserts during the holidays!