We stopped using paper napkins in my home about 8 years ago. Both my husband and I felt like it was not only a "greener" move but also, cloth napkins work so much better. Plus, they are prettier too… especially with our DIY Ombre Napkins tutorial!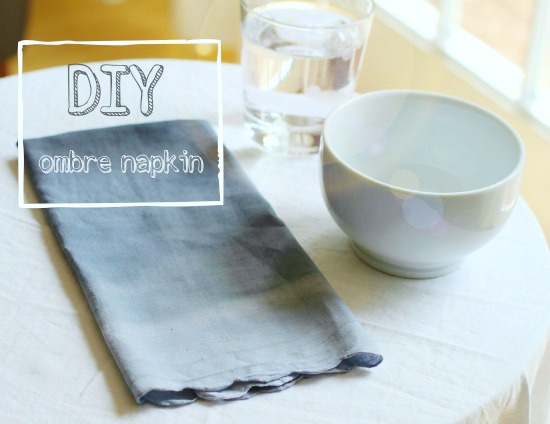 Sometimes though, my napkins (as they are getting a little older) start to look a little sad. A cool, quick and easy "facelift" for them is to dye them in ombre style. I chose a mellow-looking "charcoal" look for this particular napkin (I actually used black dye) but you can use any color you want or even refresh a set of napkins in rainbow colors!
DIY Ombre Napkins: Great Upcylce Project!
Supplies:
box of Rit dye (we used black)
large tub-like container for water
rubber gloves
light (preferably white or off-white) colored napkin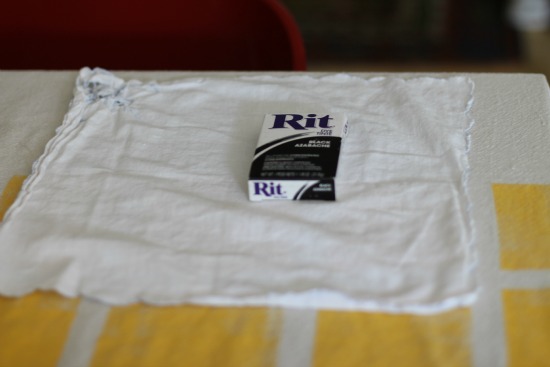 Instructions:
Step 1
Follow the instructions inside the box of your Rit and fill a container full of hot water. Add your powdered dye (proportions of water to dye depending upon how much you need will be given on the inside of the box) I eyeballed the amount of water and added the entire contents of the box.
Step 2
Unfold your napkin, hold it in both hands kind of taught and begin dipping it into the hot water filled with dye. Dip a section and hold for about a minute. Dip a little deeper, another section and hold 30 seconds. Dip again and hold 15 seconds and so on until you reach the end of the napkin. Barely dip the end inside the dye then remove. You'll have created an ombre style dying pattern. Note: there are many tutorials online that are more labor intensive and specific than this one, but if you are dying a bunch of napkins, this is an easy tutorial to follow. 
Step 3
Rinse your napkin holding the lightest color section at the top. Hang outside to dry then launder your napkin before use.
Great job! You are finished and the possibilities are endless for this project. Have fun!