Are you the type of person who goes all out for your holiday cards? Dress up the family, find a cool location, and write a super witty poem that all goes together in a theme? I get some really great cards from friends and family and wish I had put a little more effort into it. Although, I recently thought up a fun Seattle/rain/umbrella idea that I'll be doing next year! Well, to help give you some last minute ideas, here are a few fun themes any family could pull off!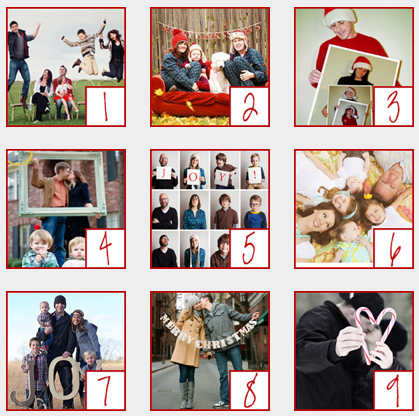 There are 9 great ideas posted over at Christmas Your Way, pictured above. My favorite is the picture in a picture in a picture!
Wear stick-on moustaches or put a few paper moustaches on a stick to hold up during the photo. This might also be next year's theme, with Jordan and Movember :)
Wear festive matching PJs, like this fun photo from Nicole Hill Gerulat. Watch the video for some great photo tips.
Put on giant glasses or feather boas and make it a dance party.
Tip Junkie has compiled 10 ways to make your photo cards stand out. I love the photo with bright blue chairs.
Take your photos in a photo booth and line up 2-3 lines in a row to make a fun card.
Wear big Santa hats or fun reindeer antlers on each head.
What are your ideas for holiday cards? Have you already sent them out? Still planning to send them or are you doing a "new year" card ;)
And a BIG thanks to all who entered in for the Shutterfly Prize Pack Giveaway. I have a WINNER!!! I will be emailing the winner today, and once they've confirmed, I'll announce who it is here. Thanks again everyone. May your holidays be picture perfect!
For contest rules see: Shutterfly Holiday 2011 Cards Sweepstakes Official Rules
Disclosure: This post is sponsored by Shutterfly. Send holiday joy with a custom card from Shutterfly.