Today we made some fun paper dolls in stylish garden wear. Cricut, a Make and Takes sponsor, provided us with their new Freshly Picked cartridge to play around with and we chose to create this darling garden outfit to place on a fun full length picture of my daughter. She had so much fun dressing herself as a doll!
Personalized Paper Dolls
Supplies:
printed out picture of child – this can be printed on regular white paper or photo paper and would be best in color ink, but mine was on the fritz, so here we were with a black and white image.
Freshly Picked Cricut cartridge for garden accessories
glue stick
12×12 cardstock paper
velcro and lamination – optional
Instructions:
1. First, I photographed my daughter. I knew I wanted her to hold a few items in the garden, so I positioned her with her arms out. Then I printed the picture on regular printing paper and cut out her body as close to the lines as possible.
2. Next, I fit her body for the paper accessories. Once I found the right size for the hat, I knew about how big to make everything for her doll size.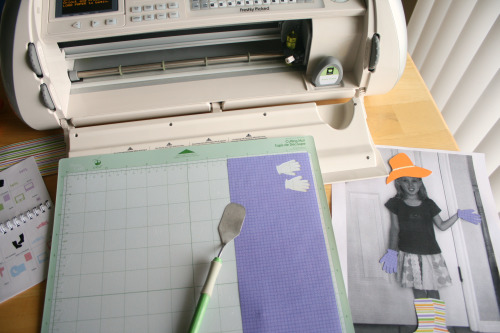 3. I glued the paper doll onto a large 12×12 size cardstock paper. I also added the word "garden" to the top to help showcase the page.
4. Lastly, I added the accessories. We chose a fun gardening hat, shovel, watering can, and an apple tree. Then we decided to glue them all on, making it a permanent picture. You could add sticky back velcro to the body and the accessories and make it interchangeable if you'd like. If you use velcro, I also suggest laminating each piece to help it last longer.
We had so much fun looking at the cartridge booklet together and choosing what tool she was going to hold, what plant or flower she was going to water. It was a great activity to do together that kept us busy for the whole afternoon. I'm sure there are so many kinds of fun personalized paper dolls you could come up with!
Be sure to visit a retailer near you (Jo Ann, AC Moore, Meijer, Michaels, Oh My Crafts, Memory Miser, or CricutMachine.com) and pick up the Freshly Picked cartridge for a chance to win a free cruise, cash prizes, and cartridges. Learn more about the Cricut Ticket promotion.