I'm excited to share a Guest Make and Taker post with you from Leigh Anne at Your Home-Based Mom. She makes and bakes yummies for the kitchen and writes about tales from her Home Base! Here's her easy and delicious recipe for Apple Pie, a perfect recipe for the upcoming Holidays.

Spending time in the kitchen with my kids has always been a favorite activity. Now that 3 of my kids are off at college and the youngest has a busy high school schedule that doesn't happen much. But I do know that my kids have lots of happy memories of spending time in our kitchen and the yummy food that has come out of our kitchen. Nothing brings me more pleasure than when one of my boys (ages 22 and 24) calls me and asks for one of my recipes!
One of our favorite fall recipes is Easy Apple Pie. Don't let the word pie scare you away – it really is easy! No pastry crust to fuss with! I especially like this recipe because it is a fun and easy one to make with your children. They will love it because they can get their hands nice and messy with the easy pie dough and will love helping you peel, core and slice the apples if you use a fun kitchen toy – an apple peeler, corer (available at most stores in the kitchen gadget department). My kids loved seeing how long of a strip of apple peel they could make!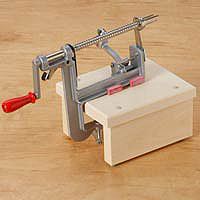 2 C flour
1 C sugar
1 egg yolk
1 tsp baking powder
Mix and add – 2 cubes butter, melted
Press 1/2 of dough into a glass pie plate.  Being sure you have an even layer on bottom and up the sides of the pie plate. (no holes!)
7-8 apples – sliced, cored and peeled. I prefer a crisp, tart apple.
After pressing 1/2 of pie dough into pie plate, pile apples onto crust.  Sprinkle with cinnamon (sorry, no exact measurement – I just sprinkle until it looks like enough, probably a Tablespoon or two) and 1 1/2 Tbsp sugar (or more if you like it sweeter!)
Crumble remaining dough on top by breaking it into small pieces.  Bake at 350 degrees for about 45 minutes – 1 hour (Time will vary depending on how thick you slice the apples, you want them tender but not mush!  I just stick a fork in to see how tender they are.)
You can make a regular size pie with the recipe or have the kids make their own individual size pies perfect for their little mouths. Enjoy and Happy Fall!