I'm happy to have Deb from Fresh Nest Design here as my guest today. She's sharing a much needed DIY idea to organize your outside water hose.
Hello everyone!  Erin and I had so much fun doing Marie's Living Room Design that I'm back to share a tip with all of you. (Marie: which will be complete in August and I promise to share!)
My husband and I have been working on our landscaping recently.  I will admit that it's been quite the chore, but the end result has made it all worth it.  In the process of redoing our landscaping, we have installed a new hose stand.  I have been through just about every hose stand that is offered out there, and the only one I have been pleased with is this one from Home Depot.  We have one on the other side of our house that we installed 3 years ago, and it still looks brand new.  It's inexpensive and easy to install.  Let me show you how.
Supplies for installing your DIY Hose Stand:

MY LATEST VIDEOS
Shovel
Quick mix concrete
Water
1.  First, dig a hole about 1 foot wide and 2 feet deep
2.  Have one person hold the hose stand and make sure it's standing upright.  Once it looks straight, have the person continue to hold it.
3.  Pour in a 5 lb. bag of quick mix concrete.  Make sure the stand looks straight still.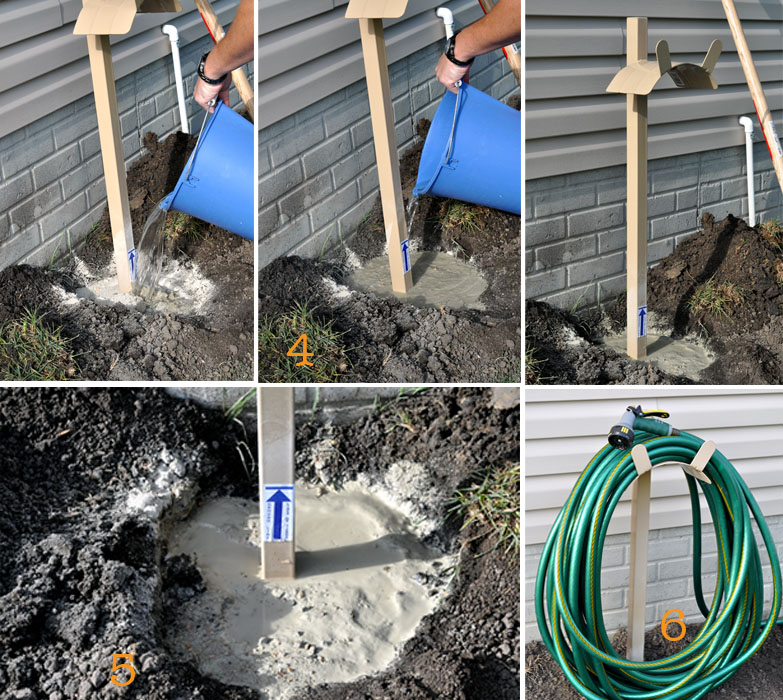 4.  Pour in a bucket of water.
5.  Let it sit overnight – although your helper doesn't need to stand there anymore :)
6.  After you have let it sit over night, you can put the dirt over the concrete.  Now you are ready for the hose.
Look how easy that was!  And all this for only $25-$30!  You have a perfect hose stand that will stand the test of time.
Thanks, Deb. Who knew it could be that easy?! Much better than piling it in a heap getting tangled. For more tips for household projects and design, visit Fresh Nest Design.