Since my Dad is quite the TV watcher in his retired years, I decided to give him a "Remote Control" themed gift for Father's Day a few years back. Here's a chocolate cake I made with Spree candies and M&Ms for the remote's buttons. Or should I say "clicker's" buttons, as that's what My Dad calls his remote control.
Then I found this great fleece panel at JoAnn's Fabric and couldn't resist buying it. My dad now snuggles with it when he watches the tube.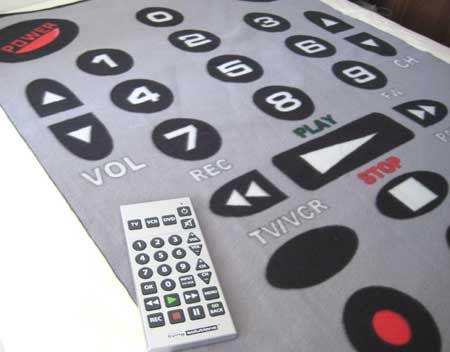 Then the best part of the gift came from the result of my husband's shopping. This LARGER than life remote actually works. My Dad loves it and uses it for his TV. Good ol' Walgreens has these great remotes for $10 and other LARGE items, like calculators, MP3 players, and more.
If the Father in your life likes the TV, try these ideas for a gift. What other TV type ideas have you done? Maybe I should come up with a Hand-Stitched TV or remote control card!