We've been having our fair share of 100º+ days this summer. Phew, it's hot! We like icy, fruity drinks on a hot day, but I don't love my kids consuming high-fructose corn syrup and artificial colors on a regular basis. So, homemade fruit slushies it is!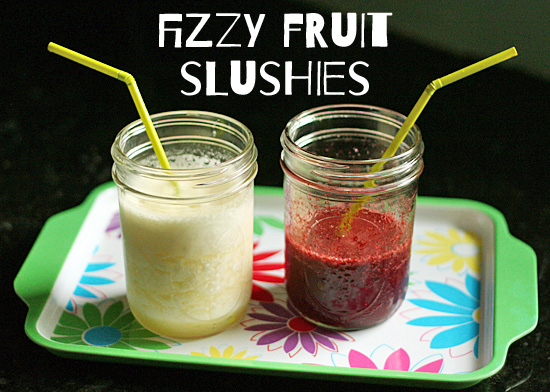 With just a few ingredients and a whirl in the blender, you can cool off with a delicious, frosty slushy made with real fruit. The flavor combinations are endless, so have fun experimenting!
Ingredients for Fizzy Fruit Slushies
1 can lemon-lime or lemonade soda
1/2-3/4 cup frozen fruit of your choice
1/2 cup ice (or more depending on how icy you want it)
It doesn't get much simpler than this – put all ingredients into the blender and blend until smooth and icy. Pour into glasses and enjoy your frosty treat!

MY LATEST VIDEOS
For the soda, you can use something like Sprite or Sierra Mist. Or, to make this a healthier treat, try a more naturally-sweetened soda brand. We like stevia-sweetened Zevia or Blue Sky sodas. You could even try a sparkling juice, or equal parts 100% juice and sparkling water.
Use packaged frozen fruit from the grocery store, or slice and freeze your own fresh fruit. Let your kids get creative with the flavor combinations! Here are a few ideas to get you started:
strawberry + blueberry
blackberry + peach
pineapple + mango
strawberry + watermelon
berry cherry
strawberry + banana
This recipe makes 2 generous servings. My girls quickly sucked down the pineapple one we made, so I guess it was good! They really liked the little bit of fizz and froth from the soda.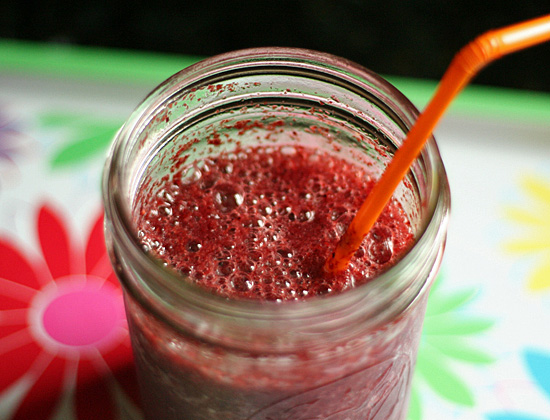 We have more 100º days coming our way, but we'll be staying cool with our homemade fruit slushies. Yum!
What fruits would you combine in your perfect fruit slushy? Cheers!
Want to know how to get 50-70% off your fancy blender? Check out Blendfresh! When you sign up you get big discounts on Blendtec appliances and these really yummy fresh dried fruits and vegetables to use in your smoothies and baking!