Sign me up for anything with pumpkin baked into it, especially if there's maple syrup involved. My kids were going crazy over these Flaky Pumpkin Biscuits. I've seen similar recipes, but I decided to use my favorite buttermilk biscuit recipe and tweak it a little.
Flaky Pumpkin Biscuits with Maple Cinnamon Butter
A little less milk and a good dose of pumpkin puree, a bit of spice from my favorites–cinnamon, nutmeg, ginger and cloves. Yum!
These biscuits are flaky.  Look at those layers!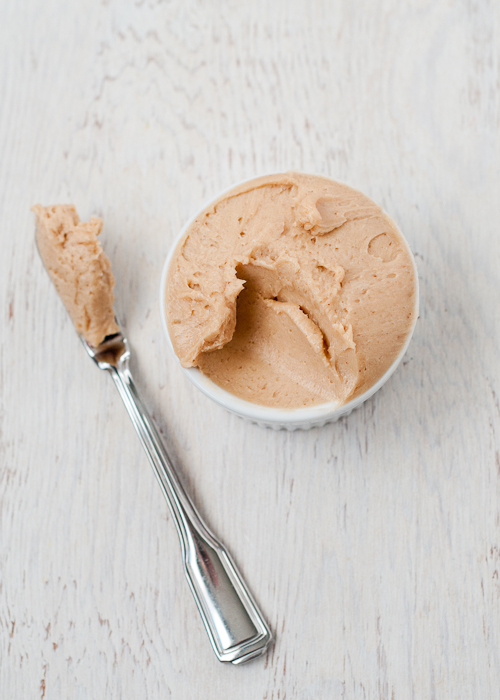 Could there be anything better than a hot biscuit slathered with butter?  Yes.  If it's this maple cinnamon butter.  It's outrageously good.  I don't know if I'll go back to honey butter after this.
These would be fantastic on your Thanksgiving table, or made fresh to have with leftovers the next day.  I'm dreaming about pumpkin biscuits with the maple butter and a smattering of homemade cranberry sauce…mmm.
Happy Thanksgiving!
Flaky Pumpkin Biscuits
Ingredients
For pumpkin biscuits:
2 cups flour
4 Tbsp. brown sugar
2 tsp. baking powder
1/2 tsp. baking soda
1/2 tsp. salt
1 tsp. ground cinnamon
1/2 tsp. ground ginger
1/4 tsp. ground nutmeg
1/8 tsp. ground cloves
8 Tbsp. butter, cold and cut into cubes
1/2 cup plus 2 Tbsp. canned pumpkin puree
1/3 cup buttermilk
For maple cinnamon butter:
1/2 cup (2 stick) butter
2 Tbsp. pure maple syrup
1/2 tsp. ground cinnamon
1/2 tsp. vanilla extract
Method
For biscuits:
Preheat oven to 40o degrees F. Line a baking sheet with a silicone baking mat or a piece of parchment paper.
Whisk the dry ingredients together. Cut the cold butter into the dry ingredients until crumbly. Mix the pumpkin puree and buttermilk together. Make a well in the center of the dry ingredients and pour the pumpkin and buttermilk into the well. Use a fork to quickly mix the dough together to form a ball. Transfer the dough to a lightly floured surface and knead a few times until the dough comes together. Roll out on a floured surface to 1/2″ thickness. Use a 2 1/2 to 3″ round cookie cutter to cut out the biscuits. Transfer the biscuits to the baking sheet and re-roll the scraps.
Bake for 12-14 minutes, or until golden brown.
For cinnamon maple butter:
Beat butter until light and fluffy. Add the maple syrup a little at a time, beating well. Add the cinnamon and vanilla extract and beat for another minute or so. Transfer to a small bowl, cover and chill until ready to use, or serve immediately.
Yields 18 2 1/2-inch biscuits, less if you use a larger cutter and a heaping 1/2 cup maple cinnamon butter.