When my kids need something extra to do, we get out a set of flash cards. They are especially great for the car. All types of flash cards are available, usually found in the office section of the store. You can make your own, but their fairly inexpensive, so I tend to buy them pre-made from the store.
Flash Cards usually come in a box that makes them hard to pull out or the box gets ripped, making them difficult to put back. So I came up with a way to make flash cards easy to keep together, using rings.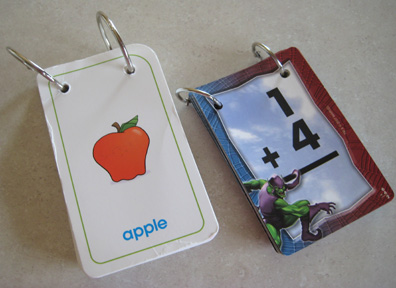 Supplies for Flash Card Rings:
Book Rings – preferably 1 1/2 to 2 inches in size
Hole Punch
Flash Cards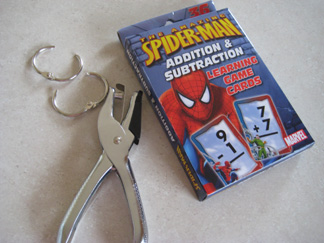 Simply take your flash cards and punch 2 holes at the top, spaced from end to end. I place a "punched hole" card on top of another so that the holes will all be in the same spot. Then attach your book ring to each side through all the holes of each flash card. Then clasp the book ring shut tight.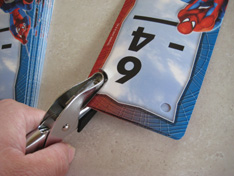 You're done. Now you're ready to go through your cards in a flash!