My dad was always one who never had enough topping for his ice cream or cake! So I've come up with this idea for him, surrounding our ice cream with syrup on ALL sides! I've partnered with Hershey's Syrup to share a fun and different way to assemble your summer ice cream sundaes, frozen style!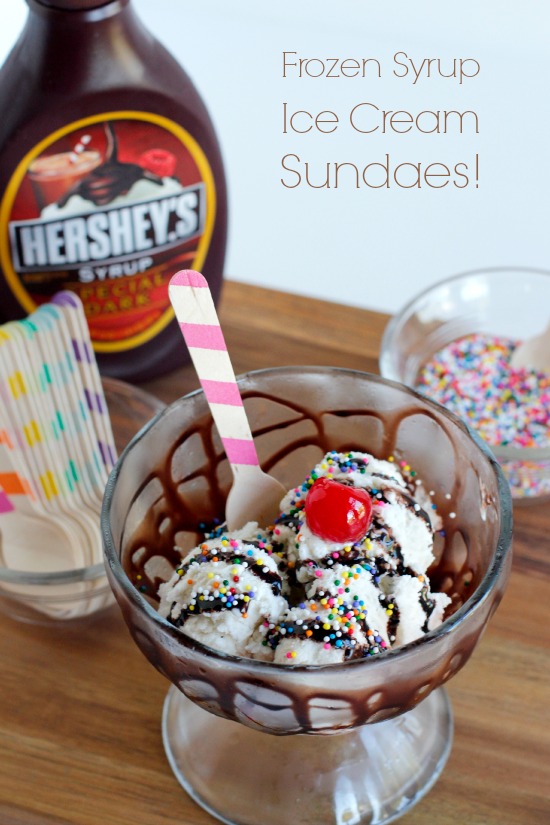 Before dinner, ask your guests to choose their favorite flavor of syrup. Add it to your dish all around, and freeze them up. They will be a hit. Yes, you might have to clear out a shelf in your freezer to create these frozen syrup dishes, but it's worth it, I promise!
Supplies for Frozen Syrup Ice Cream Sundaes: 
ice cream – any flavor
bowls and spoons
toppings – sprinkles, whip cream, fruit, nuts, etc.
1. Grab your ice cream dishes and set out flavors of syrup. Add syrup to the bottom and sides of your dish. You can see that we did it two ways: drizzle all over in lines or pool it at the bottom and roll it around to get it all over the whole dish. Both ways work great!
2. Set your syrup dishes in the freezer for at least an hour, longer if you can. We've made these with only an hour to spare and it was still delish. But I have made them after being frozen over night. Either way, your dish stays cold, helping that ice cream stay solid longer – win, win!
3. Once your dishes and syrup are chilled in the freezer, set up the sundae bar.
As you can see, the caramel and strawberry are more clear, but it's there and yum! Note: the syrup may still be runny at the bottom. I found my syrup didn't freeze solid, which is even better as it's ready to eat when they come out of the freezer.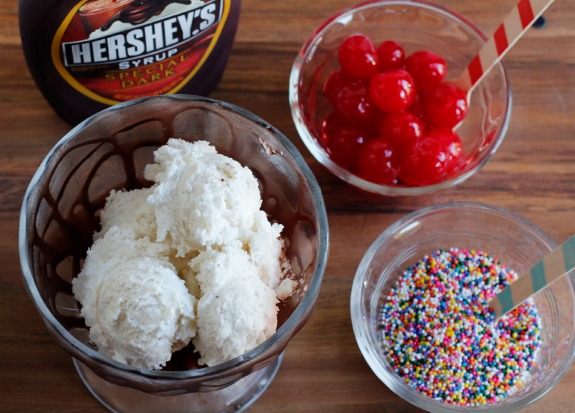 Add in all your favorites! Dealer's choice. Ice cream, syrup, sprinkles and a cherry make it complete!
With one of our dishes of frozen syrup, there was plenty of syrup on the bottom, we didn't need to add more on top. Simply add sprinkles and a spoon, and you're set! We also found that if you have a frozen dish, your sprinkles will stick to the sides and make for a fun presentation!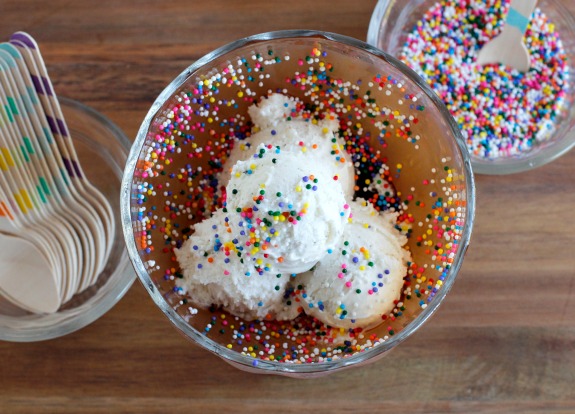 Now for more summer fun… want to win the supplies to host your own Ice Cream Sundae Party?! See below for how to enter to win a prize pack including Hershey's Syrup, sundae dishes, an ice cream scoop, and the cutest spoons you ever saw!
Giveaway has now ended. Thanks to all who entered!
*Thanks to Hershey's for sponsoring this post. All ideas and images are my own. Be sure to visit CelebrateWithHersheys.com for more dessert and syrup inspiration. Have fun this summer with your frozen syrup ice cream sundae bar!