Today's my birthday. Yes, another year older and hopefully wiser too! A fun little fact about me… today is my husband's birthday as well – he's just 2 hours older than me. Isn't that so fun? You can read more about it from Last Year's Birthday post. Happy Birthday, Jordan!
All growing up, my mom made us a Frozen Yogurt Chocolate Cake for our birthday. It is THE cake for birthdays! We all love it, especially my dad. So to set the mood of celebration, I'm sharing this recipe with you. Make it for the next birthday in your home- or just a weekend dessert idea. You're going to love it! Trust me on this one. The chocolate cake is moist and flavorful and the frozen yogurt just melts in your mouth.
Frozen Chocolate Yogurt Cake
1 pkg. chocolate cake mix
Mix and pour batter into 2 or 3 rounds and bake as directed on the box. Once the cakes have cooled, take each layer out of their pans and freeze until firm, (couple of hours). This helps with handling them when they get placed on top of each other. If your using 2 rounds, slice them into 4 layers. If you used 3 rounds, keep them as is. (You can make this cake simply as cupcakes or in a 9×13 pan as well.)
Yogurt Topping:
1 pint heavy whipping cream – whip until very stiff & sweeten with sugar
3 cartons of cherry yogurt – pre-stirred colorful & firm, Yoplait works really well. (Any flavor of yogurt will do, cherry just has a bright pink color.)
Fold cream and yogurt together. Frost each layer of cake generously using a spatula. Then freeze the whole cake for several hours or overnight until firm.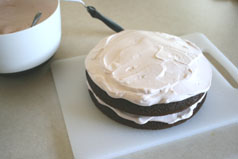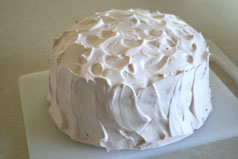 When you're ready to serve this frozen cake, pull it from the freezer 15 to 20 minutes before to thaw. It's fun to see the contrast in colors from the dark chocolate and pink yogurt. It makes a great Ice Cream Cake alternative.
Speaking of cakes, I've entered to win this fun Cake Making Kit. Hopefully I'll win and can use it for next year's birthday. Now have a piece of cake on me! Yay!
SaveSaveSaveSaveSaveSaveSaveSave