Sorry, this post is another deep fried recipe (I know, it's not helping my love handles either!) It's also another yummy breakfast meal we like to eat for dinner! Fried Scones were one of my favorite meals growing up as a kid.
Fried Scones for Dinner
My mom would make bread and save some of the extra dough to fry up as scones for dinner. I don't get around to making bread dough from scratch these days, so I've been making my scones with frozen roll dough. They're easy to use and the perfect shape for scones.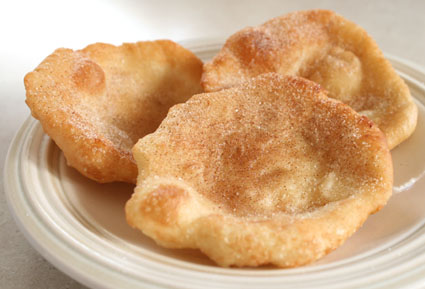 Fried Scone Recipe
Ingredients:
Bread Dough – I like to use frozen bread rolls.
Oil – canola is good for frying
toppings – cinnamon, sugar, jam, syrup, etc.
Method:
Pour 1 inch of oil into a frying pan set to medium heat. (A tip for knowing when your oil is ready: tear off a tiny piece of bread and when it floats to the top and has bubbly sides it's ready. You don't want it sinking to the bottom.) Now stretch out your dough as far as it will go. Now cook about 1-2 minutes per side, watch these, they can burn fast. Then using tongs, place them on plate with paper towels to soak up any excess oil.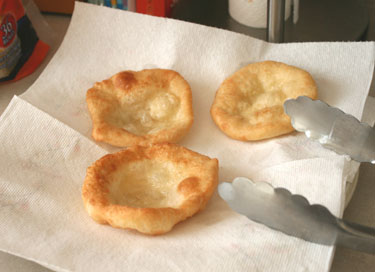 Now they're ready for toppings. We like to eat these with fresh raspberry jam, cinnamon and sugar, or even peanut butter and honey. My kids like plain ol' syrup.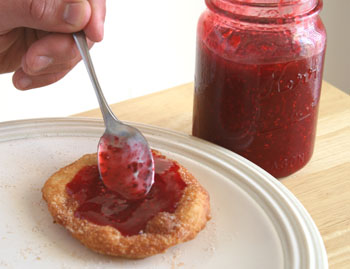 If you're afraid of getting burned with hot jumpy oil like me, get these great splatter guards for frying foods. I use mine all the time.