One day I was cleaning out my fridge and noticed I had all the makings of a delicious vegetable chili — cooked red kidney beans, red and green bell peppers, zucchini, corn, fresh cilantro, and green onions. I threw it together in about 10 minutes and let it simmer for a little longer and lunch was ready.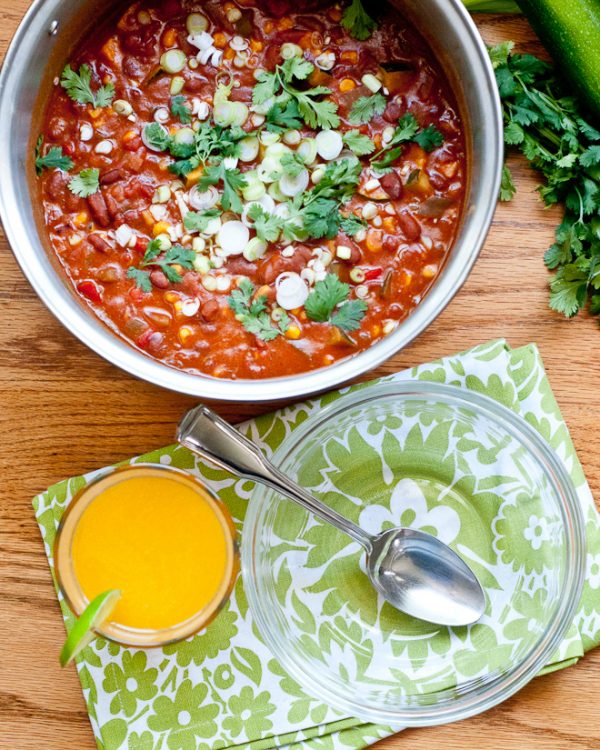 I see other possible garden veggies for this chili–yellow squash, fresh tomatoes (when they are ripe), thinly sliced radishes as a garnish, julienned leafy greens (spinach, chard, or kale), and in the late summer, sweet potatoes and butternut squash.  Other types of beans would be delicious too–black, red, pinto, or cannelini.  Use canned for an even easier, quicker summer meal.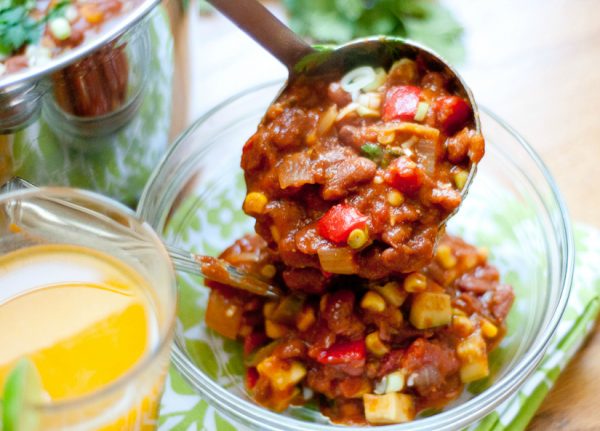 Garden Vegetable Chili
Makes enough for 6-8
Ingredients
For the beans:
1 lb. dry red kidney beans
1 onion, cut into quarters
3-4 garlic cloves
2 bay leaves
1 medium onion, chopped
For the chili:
1-2 Tbsp. canola oil
1 red pepper, diced
1 green pepper, diced
4-5 cloves garlic, minced
4 Tbsp. chili powder
1 Tbsp. ground cumin
1 large can (28 oz.) tomatoes
1 1/2 cups or more corn kernels
1 medium zucchini
a little water
1-2 tsp. salt (taste after adding the 1st tsp.)
hot sauce, to taste
optional garnishes–cilantro, sliced green onions, sour cream, shredded cheese
To prepare the beans:
Sort and rinse kidney beans. Add the beans, quartered onion, garlic cloves, and bay leaves to a large slow-cooker, at least 4-6 quarts. Cover the beans by about 3″ water, depending on the size and depth of your slow-cooker. Cook on low heat for about 8-10 hours, or high for about 5 hours. Season well with salt to taste and set aside, refrigerate, or freeze until ready to use.
To prepare the chili:
Drizzle a few tablespoons of canola oil in the bottom of a soup pot or Dutch oven and heat over medium-high heat. Add the onion, red and green peppers, and garlic to the pot. Cook, stirring occasionally, until the vegetables soften, 5-10 minutes. Add the chili powder and cumin. Cook until fragrant, stirring constantly to prevent the spices from burning. Add the tomatoes and corn. Bring to a simmer. Add a little water if needed, to thin. Stir in the cooked kidney beans. Stir occasionally and adjust temperature so chili doesn't burn on the bottom of the pan. Simmer for 20-30 minutes to allow flavors to blend. Add the diced zucchini and continue simmering until zucchini has softened, but is not mushy. Taste and adjust any seasonings. Ladle into bowls and garnish with desired toppings.