We are a family who loves our veggies. I don't know where my kids came from, but all three of them eat their vegetables, even the brussel sprouts. But to help spice things up a bit and get a little creative, we're making silly vegetable shapes on our plates for an after school snack. I put together a veggie bar at the table and let the kids make all sorts of fun creations!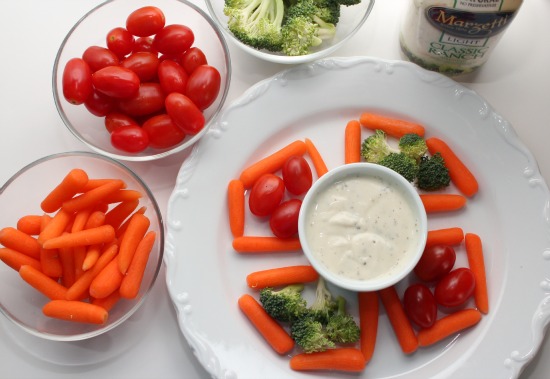 Supplies for Veggie Bar:
all sorts of veggies, washed and cut

bowls
plate for each child
ranch dressing
1. Set up your veggie bar. Place your vegetables into small bowls for the kids to grab from. It's best to keep the same vegetables grouped together. Although you can give each child their own personal bowl of veggies to work with if you're doing this with a lot of kids at a party.
2. Place the dip bowl in the center of the plate and add in your ranch dressing. You can use any salad dressing your kids like. Blue Cheese or even a Caesar would be yum. Marzetti's has so many perfect classic choices, and many of them in a light version! We're a ranch family, so that's what we all had for a dip.
3. Now start to make your creations. There were a couple flowers shapes, a patterned sunburst (pictured below), and a face with the dip as the nose. The sky is the limit!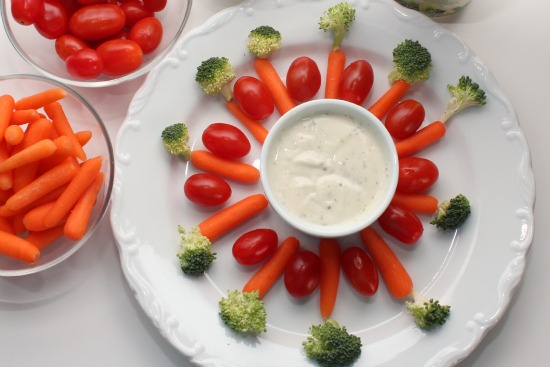 See, happy kids eating broccoli. My daughter decided to eat one of the hands off her little person first, it's ready for a dip in the dressing before it takes a dive into her mouth!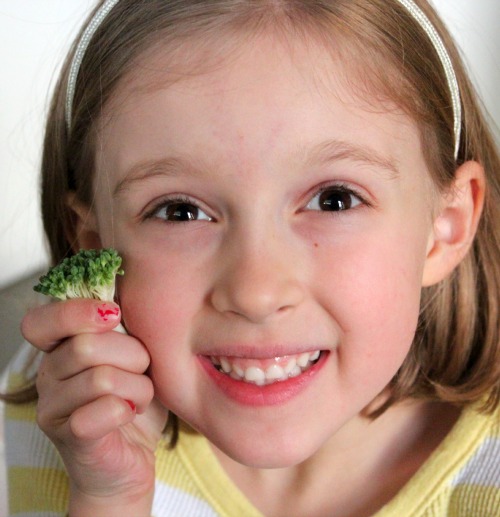 How are you getting your kids to eat their veggies? I know you all have your clever tips and tricks!
*This post is sponsored by Marzetti.com Classic Salad Dressings. All ideas and opinions are my own.