We have no trouble getting our share of sweets during the month of December. It's the healthy foods we have to be sure to make room for! Here's a fun hands-on lunch or dinner activity to make with your kiddos – gingerbread boy and girl pizzas. Cute and delicious, and perfect for our Holiday ABC series and our Letter G for Gingerbread.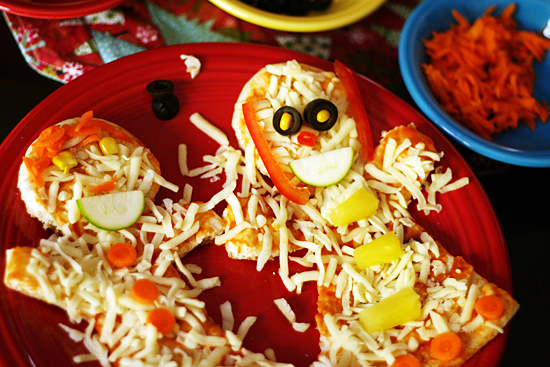 Ingredients for Gingerbread Pizzas:
pizza base – we used Naan bread, but pita, homemade or store-bought pizza crust, or even toast would work
pizza sauce
mozzarella cheese
toppings, diced and sliced into various shapes
Cut your crust into boy and girl shapes, or use a large cookie cutter if you have one.  I just winged it, and my girls certainly didn't mind my imperfect shapes!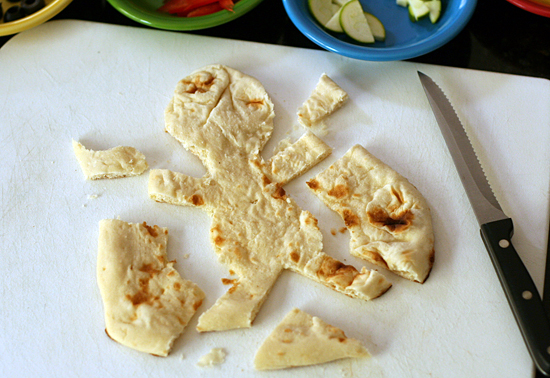 Set out your sauce, cheese and assorted toppings and let the kids go to town. I cut the veggies into a variety of shapes – strips, rounds, half-moons, small dice, and grated.
Topping ideas:
mushrooms
olives
pineapple
corn
zucchini
red bell pepper
carrot
whatever other veggies/toppings your kids enjoy!
There may have been some squeals of delight when my kids saw this set-up on the kitchen table!
After brushing on sauce and sprinkling on cheese, they spent a long time decorating their gingerbread boys and girls with just the right details, including hair, glasses, shoes, and belts.
Once your creations are complete, transfer the pizzas carefully to a baking sheet and bake at 350° for about 5 minutes, just until cheese is melty and a little bubbly.
Admire your gingerbread boys and girls, then dig in! Maybe read one of our favorite winter books, Gingerbread Baby by Jan Brett, while enjoying your meal, too.
My girls have already requested adding this to our December activities every year. And, they both ate red bell pepper for the first time ever, and loved it. Nothing like a fun food activity to sneak in some extra veggies!
Hope your December is off to a great start, and that you'll make some time to play with your food!