For a fun breakfast idea, I tweaked our basic granola recipe, adding molasses and extra spices, to make a yummy gingerbread granola. Added bonus – the house smells amazing while this is cooking!
I like to have a few easy and festive meal ideas up my sleeve for the month of December – something to make an ordinary breakfast, lunch, or dinner a little special. We might make gingerbread boy and girl pizzas, eat dinner by candlelight, or have Santa pancakes on a weekend morning. So this gingerbread granola is a perfect addition to our holiday menu!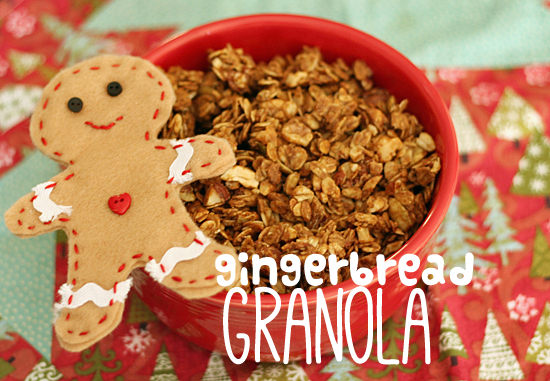 Gingerbread Granola
Ingredients:
4 cups rolled oats
1/2 cup whole wheat flour (I use whole wheat pastry flour)
1 teaspoon cinnamon
1 teaspoon ginger
1/4 teaspoon nutmeg
1/4 teaspoon cloves
3/4 cup chopped nuts and/or seeds of your choice
pinch of salt
1/3 cup coconut oil
1/3 cup maple syrup
1/4 cup molasses
1 teaspoon vanilla extract
Method:
Preheat oven to 300°.
In a large bowl, combine oats, flour, spices, nuts, and salt. In a small saucepan, gently warm coconut oil, maple syrup, and molasses. Stir in vanilla extract and pour over oat mixture. Stir until well-combined.
Spread the granola in a thin layer on a rimmed baking sheet or two. Bake for about 40 minutes, stirring a few times, till granola looks dry. Remove from oven and let cool – it will become crunchier as it cools!
My girls don't like a lot of extras in their granola, but this would be delicious with shredded unsweetened coconut, dried cranberries, or golden raisins mixed in. Serve with milk, sprinkle on yogurt, or just eat a handful for a snack!
Gingerbread granola makes a great gift, too – the kids can help you whip-up a double or triple batch for teachers, grandparents, or friends. Package it up in cellophane bags or cute stamped paper bags and it's the perfect holiday gift!