Growing up, graham crackers and milk was the best treat around. Now my kids are loving it as much as I still do. This is the simplest snack out there.
Pour a glass of milk. I choose skim to keep down the pounds. Which percent of milk do you pour yourself?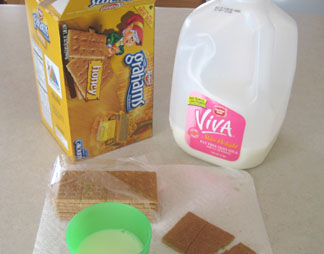 Then get out a wrapped package of graham crackers, break them into sections, and start dipping. Be careful not to let it soak for too long. I have had to go diving in the milk for a few lost crackers.