We are a green smoothies family! We have been for a while now and LOVE it! I know the smoothie train is not a new craze, but I was finally inspired last summer when I joined a 30 day challenge. Now it's something we drink almost everyday!
I was inspired by the Simple Green Smoothies girls, when I heard Jadah (on the right below) speak at a conference last summer. Her story is amazing, how she began the green smoothie journey, as well as with her business partner Jen. Plus, they are just the cutest. And their instagram feed is off the charts. I also LOVE their newsletters, sign up for them. They always have great info and recipes. They're always calling me a "RAWkstar"!!
So now I'm hooked. Even the kids are involved! In fact, my youngest always wants more, more, more! She wasn't too sure about that first sip, but now we call her the "green smoothie monster"!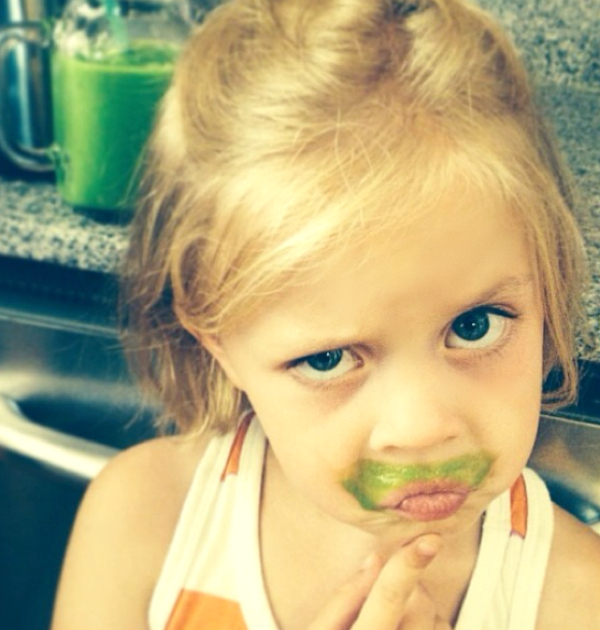 It's been so fun to come up with new fun recipes. My kids have turned it into a game where they try to guess what ingredients I put in each green smoothie! They are getting pretty good at it!
But with 5 people in my family, 2 adults, a growing tween, and 2 lively girls, I need to be able to make a batch of smoothie in one-fell-swoop! So I've slightly adapted the Simple Green Smoothie method so I can feed my whole family on one recipe.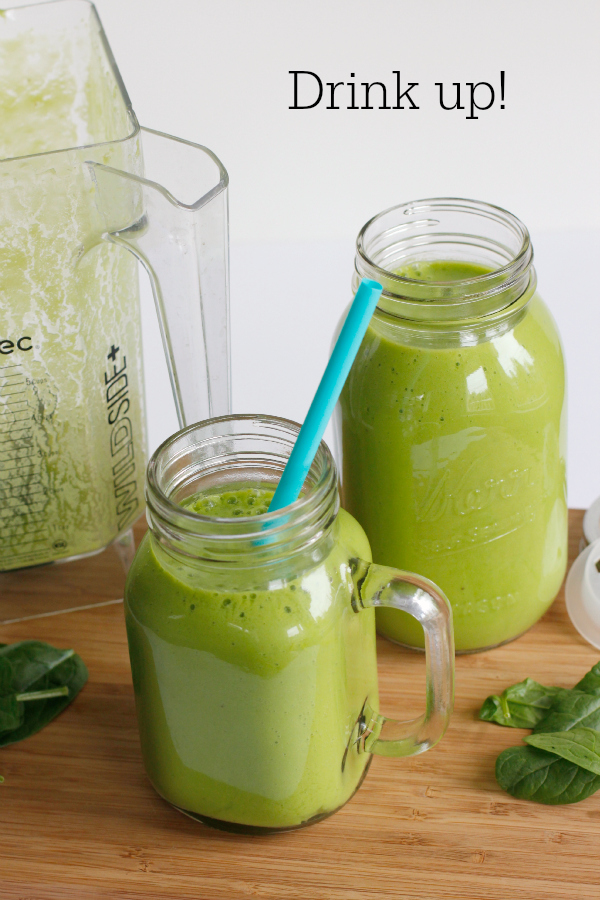 Green Smoothies for the whole family
Ingredients: 
greens – spinach, kale
liquid – water, coconut milk, almond milk
fruit – anything I have on hand in the fridge or freezer (I always keep my freezer stocked with frozen fruit – either pre-packaged or prepped and frozen by me)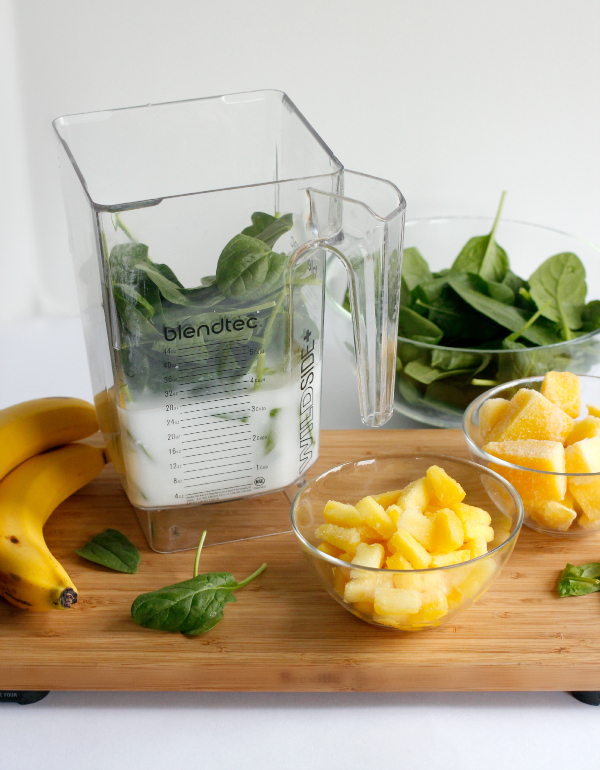 Method:
NOTE: portions are bigger. Recipe adapted from one of our favorites of Simple Green Smoothies, Beginner's Luck!
1. Add 2-3 handfuls of greens – my kids love both kale and spinach. They can't really tell the difference.
2. Add 3 cups of liquid – usually 2 cups of coconut milk or almond milk and an extra cup of water. Sometimes it's just water if I don't have any of the milk around.
3. Add 3-4 cups of fruit – this can be any fruit. Really! Frozen, fresh, or a mix. Below I added 2 bananas, 1 cup frozen pineapple, 1 cup frozen mango.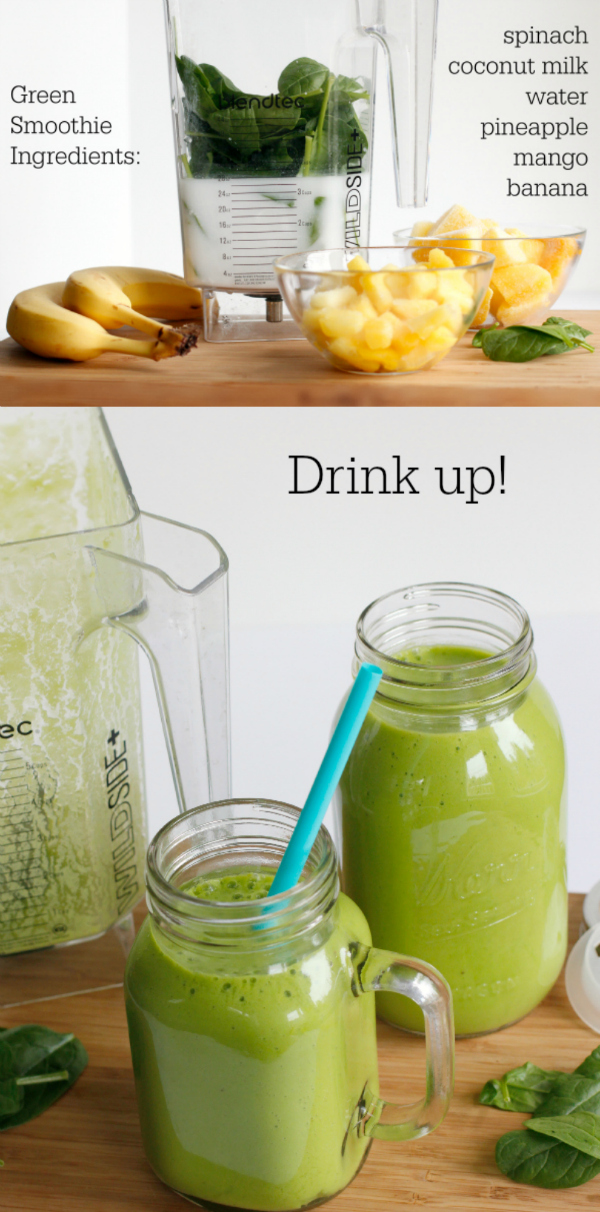 Method:
Blend it up and it's ready for sippin'! Makes 3 – 12oz glasses
TIP: blend your liquid and greens once first, then add in the fruit and blend again. I always do this now, it's a must!
Make a Brown Smoothie!
Ingredients:
2-3 handfuls of spinach
2 cups coconut milk
1 cup water
1-2 cups frozen pitted cherries
1 cup mangos
1 cup pineapple
Blend it up and it's good to go! Makes 3 – 12oz glasses
NOTE: be sure to have a good blending blender on hand. I LOVE my Blendtec. It's indestructible! It gets all those whole frozen strawberries blended so well. And it even tells you you're awesome!
We also use a few different styles of lids for our mason jars, which are the perfect glass for our smoothies. There are the cute flower lids for fun and the Cuppow lids for sippin' without a straw!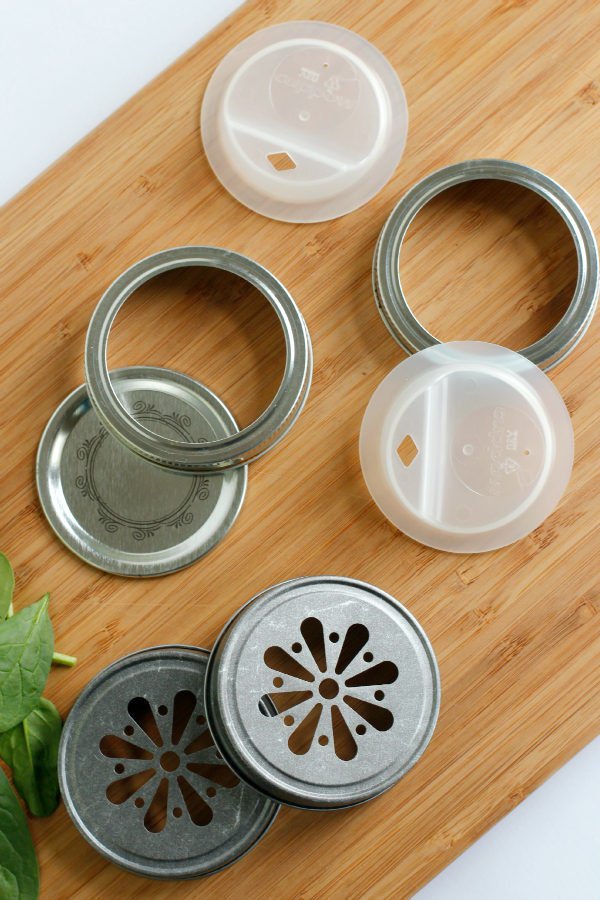 Have fun getting your green smoothie on!