My father-in-law is quite handy on the grill! He's always testing out fabulous food to BBQ. I have to thank him for sharing this delicious recipe with me. These Grilled Portabello Mushrooms are so easy to make with only 3 main ingredients.
Recipe for Grilled Portabello Mushrooms:
2 portabello mushrooms
2 slices of a large tomato
2 slices of swiss cheese
olive oil, salt, pepper
Prepare your grill, getting the heat to at least 400 degrees. While you're waiting, brush your mushrooms with a little olive oil and salt and pepper. Once the heat is ready, place your mushrooms top side down, the stem pointing up. Let that grill for a bit, like 10 or so minutes. Mushrooms take some time to cook down.
Then flip the mushroom to stem side down and add a tomato slice to the top. Close the lid and let this grill for another 10 or so minutes. You can then form the mushroom and test it's tenderness.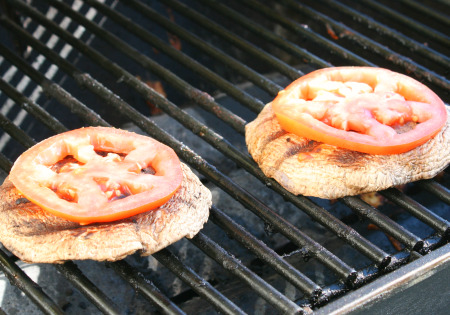 If it's almost to your liking, add the swiss cheese on top of the tomato. Let that grill and melt that yummy yummy cheese.
Now it's ready for slicing.
We eat these as is, but you could add them to a bun making it complete as a portabello burger. Portabellos have a very meaty flavor and are thick, so they can be used to replace a traditional meat ingredient. My kids love these, eating them up and wanting more. Have fun trying these on the grill!