We have breakfast for dinner about once a week, sometimes more if my husband or I have a lot going on. It's easy and the kids always enjoy it. This recipe for Ham and Cheese Puff Pancake is something that rolls dinner and breakfast into one. If you don't have ham, you could definitely use crumbled, cooked sausage instead. I used Gruyere, but cheddar, mozzarella or any good melting cheese. (I'm thinking Pepper Jack with some chorizo would be magic together.)
Ham and Cheese Puff Pancake
I love these kinds of meals that come together quickly for busy nights, or even for lazy Sunday mornings.  My family went crazy for this, and I bet yours will too.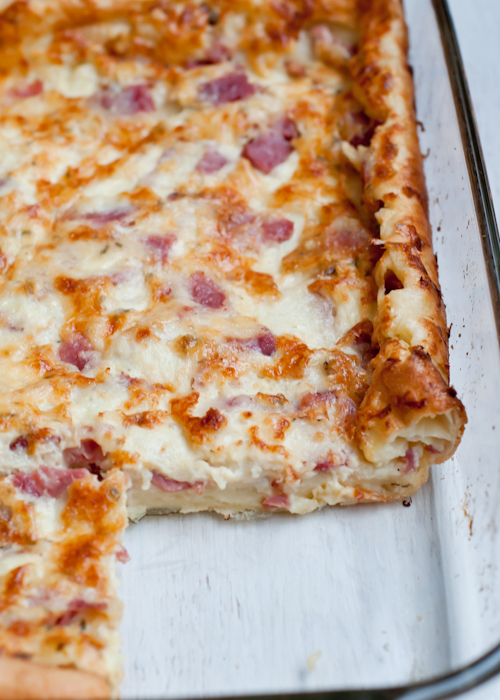 Ham and Cheese Puff Pancake
Ingredients:
1/4 cup butter,for pan
1 cup milk, room temperature
1 cup flour
4 large eggs, room temperature
1/4 tsp. salt
1 cup diced ham
1-2 c ups shredded cheese (I used about 1 1/2 cups of Gruyere)
1 tsp. dried or 1 Tbsp. fresh herbs
Instructions:
In a medium bowl, whisk together milk, flour, eggs, and salt until smooth. Alternatively, place everything in a blender and blend until smooth. Set aside for 20-30 minutes while oven is preheating.
Preheat oven to 425 degrees F. Place butter in a 9 by 13″ glass baking dish. Heat in oven for 5-10 minutes, until butter is completely melted and foaming. Remove pan from oven and tilt to cover the bottom entirely with the butter. Remove from oven and pour batter into the pan. Quickly top with the diced ham, shredded cheese and herbs.
Bake for about 20-25 minutes, or until it is puffed up and the cheese is golden brown and bubbly. Cool slightly before serving.
Serve with fruit or a small green salad.
Makes enough for 4-6 people.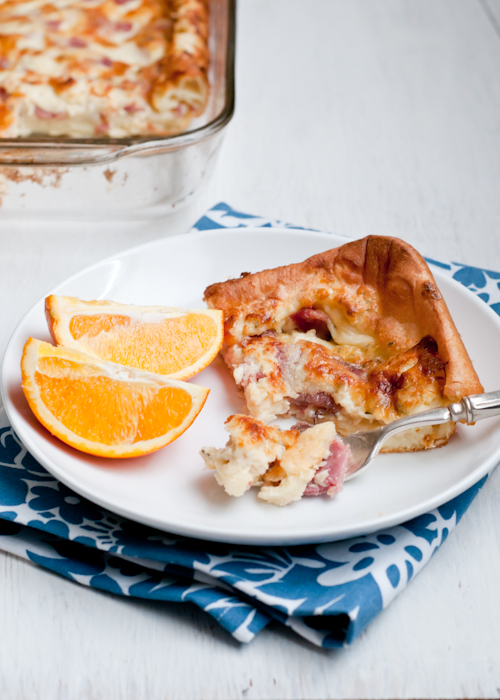 More Breakfast Recipe for Dinner:
Pin this post for later: