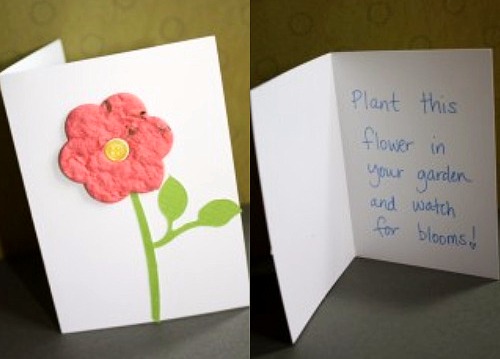 Bloomin' Handmade Greeting Cards You Can Plant
You've might have seen seed paper recently.  It is homemade paper with flower seeds in it.  When it is planted in the ground and given lots of TLC it will bloom into beautiful flowers you can enjoy.  Here is a tutorial for a project using seed paper.
First, you need to make the paper.
Use paper you have around your house.  This is a great way to recycle old scraps.  Tear them up into small pieces and place in a blender.  Add enough water in the blender so the paper is covered and blend.
When your paper is nice and evenly blended  you can add your seeds.  Unplug your blender and use a wooden spoon to gently stir the seeds into the paper mush. Do not blend them!
Now it is ready to be shaped.  Place a colander in the sink and pour the paper mush into it. If you have large holes in your colander like I do, go ahead and place a towel in it to catch the pulp, but not the water.
Place a towel on the counter and if you have a piece of felt, place the felt on top of the towel.  Then gently pour your seeds and paper pulp on the felt and spread evenly out.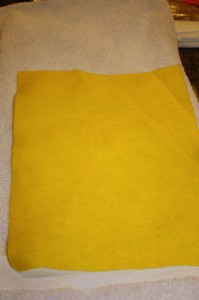 Take another towel and press it down on the paper pulp to help dry the excess water.  You can now blow dry the paper or let it sit out overnight to dry.
When your paper is dry, cut it out into a flower shape. Make a simple card with cardstock and glue the flower to your card.  Feel free to get creative here and draw, stamp, or cut out a stem.  If you don't like flowers, make a cute butterfly or tree.  The options are endless and no matter what shape you choose–it will be a hit with the recipient of the card.
Make sure you add a message somewhere on your card to let the recipient know they can plant it!

Little Birdie Secrets are regular contributors to Make and Takes and was born from the crafting obsession of three friends living in the Pacific Northwest. Our mission is to share the wealth of fun projects and helpful tips we find in books, on the Internet, and sometimes in our own imaginations.  Come visit us at www.littlebirdiesecrets.com.
SaveSaveSaveSaveSaveSaveSaveSave