Whether you call them energy bites, cookie dough balls, or no-bake cookies, these little tasty morsels take just a few basic ingredients and turn them into a quick and easy sweet treat. We make many variations of dough balls, but this recipe is the simplest and favorite around here. Unlike regular cookie dough, the base of these chocolate chip cookie dough balls is a mixture of cashews and oats, giving them a nice dose of protein.
With a little supervision at the food processor, kids can easily make these on their own. I love keeping a stash of these in the fridge, but they never seem to last long. Let's get cooking!
Ingredients for Chocolate Chip Cookie Dough Balls:
1 cup raw cashews
1/2 cup rolled oats
3 Tablespoons honey
2 Tablespoons maple syrup
1 teaspoon vanilla
1 Tablespoon unsweetened shredded coconut (optional)
Step 1: Add cashews and oats to a food processor and pulse until you get a flour-like consistency. You don't want to make cashew butter, but you don't want any big chunks either.
Step 2: Add maple syrup, honey, vanilla, and shredded coconut (if using). Pulse and mix until it forms a ball of dough.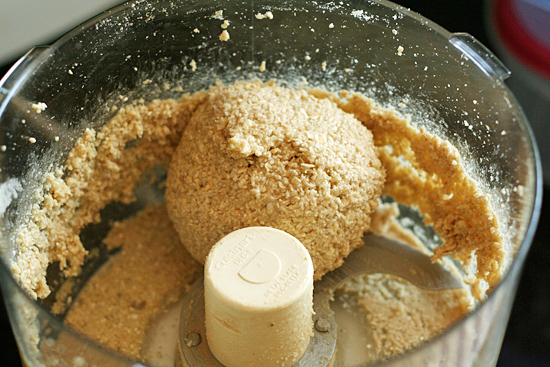 Step 3: Remove dough from the food processor and stir in chocolate chips or chunks by hand. At this point, I like to stick the dough in the freezer for 5 minutes or so, to make for easier rolling.
Step 4: Get your clean-handed kids to come and help you roll the dough into balls. We make ours fairly small and bite-size. Sorry, no photos of us rolling – we were all too sticky!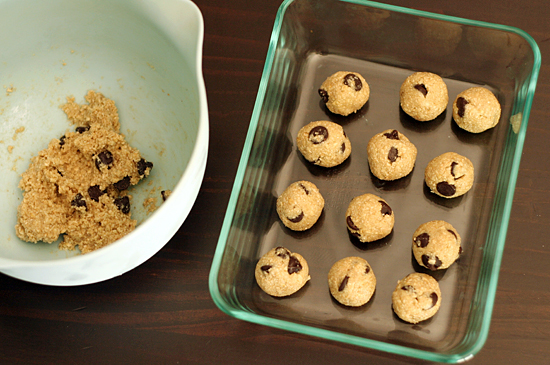 This recipes makes about 16-18 one-inch dough balls. Store in the refrigerator or freezer. Eat and enjoy!
Happy cooking with your kids!