Summer is a-comin', and you know what that means? I'm always on a big push to eat healthier and get this body into summer swimsuit shape! I'm actually hosting a "biggest loser contest" with my family – siblings, cousins, etc. So I'm on the road to kick it up a notch –  I've got to win (bragging rights and all)!!
To help me in my healthy eating endeavors, I'm cooking on the lighter side. I've come up with this delicious turkey sausage stir fry, mixing in some fresh veggies.
This dish couldn't be easier to make. It's light and delicious, just what the diet ordered!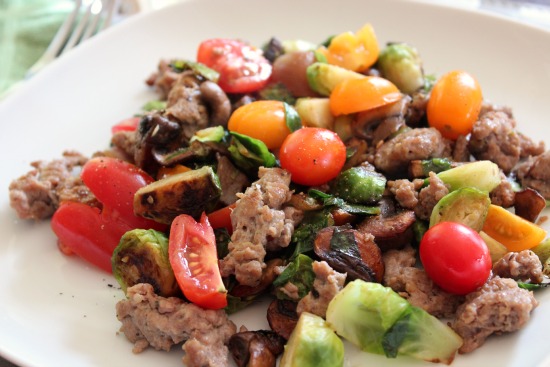 Recipe for Turkey Sausage Vegetable Stir-Fry:
1 lb. turkey sausage – not just ground turkey, make sure it's "turkey sausage"

1/2 cup onion – diced
2-3 cups brussel sprouts – washed and sliced in quarters
2 cups mushrooms – washed and sliced thinly
1 cup tomatoes – any kind, sliced if needed
olive oil
salt and pepper to taste
Fry up your onion and turkey sausage in a large saute pan on medium heat until fully cooked. Drain the sausage mix on a paper towel lined plate and set aside.
In the same pan, add 1 tablespoon olive oil and add your brussel sprouts and mushrooms. Add the lid and cook on low for 10 minutes. Bring the heat to med-high and stir often as your vegetables brown.
Add in your sausage mix to heat back up.
Add in your tomatoes and turn off the heat. You don't want your tomatoes to get too mushy. Let these warm up.
Sprinkle with salt and pepper.
Plate the dish and it's ready for dinner. Serve it with a simple spinach side salad and you're set for a healthy meal!