Painting can be a very messy craft. But as my kids LOVE to paint, I try my best to be prepared. Here are a few quick and easy things I do to keep organized when painting with my kids.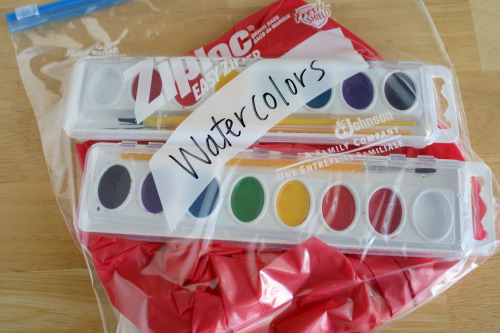 1. Storing your watercolor paints. I keep my watercolors and my plastic tablecloth in the same zip bag. Then it's all ready to go the next time they want to paint. A hard plastic container with a lid would work as great storage as well.
2. Set it all up before you start. I like to get the table all set with the tablecloth, paints, water cups, and paper all on the table before I let my kids sit down. I just feel a little more organized and in control if I have it all set up ready to go. I also talk to my kids before they start and remind them about the water cups and to try their best to watch out for spilling.
3. Wear protective clothing. I have some old t-shirts that I put my kids in as they paint. Mine are just plain ol' t-shirts, but using button-up shirts placed on backwards work great too. Then once they are done, I just toss the shirts into the washing room.
4. What to do when paint colors get mixed. As my kids are getting older, they are much better at washing out their paint brush in between paint colors. But my little 2 year old is still learning, and as you can see, these paints are all mixed. To wash them out, you can run the whole paint container under the faucet, then dry it with a paper towel. Or if you don't want to deal with more water, I simply use a wet wipe on each oval of paint and wipe the mixed colors away. It works great.
What tips and tricks do you have when painting with kids?