When I planted my garden, I didn't think it was a big deal to plant 3 zucchini plants. I love zucchini and I thought the more the better. Well, they grew big right away and I ended up pulling one of them to make room. The zucchini started to come slowly and I thought having 2 plants at this point was okay. But now they are growing like rabbits. They are tricky and hard to find too. I will think I have picked them all, and BAM another one is huge from out of nowhere. Next year I will listen to everyone else who has planted zucchini before and only plant one. I am having fun with it though. I am sure my neighbors will be tired of zucchini too when they get bags of them on their porches.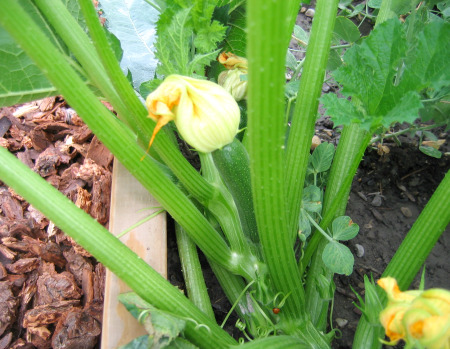 One of my favorite things to do with zucchini is make Zucchini Bread. My mother makes this every summer and when I started to make it, I learned that it is easy to do. My mom uses these great smaller loaf pans that are fun to bake them in. I started to make them as muffins too. I like the muffin because there is more crunchy crust.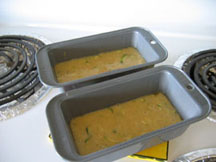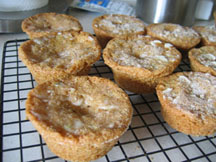 Zucchini Bread Recipe:
4 eggs
1 c. oil
2 ½ c. sugar
2 c. grated zucchini
3 tsp. vanilla
3 c. flour
1 tsp salt
1 tsp baking soda
1 tsp cinnamon
Nuts  and Chocolate Chips – optional

Beat the eggs first until foamy. Add the oil, sugar, vanilla, and zucchini. Then add the flour, salt, soda, and cinnamon. Add the optional items if desired. Pour into greased pans and bake at 350* Bake for 2 large loaf pans – 40-45 min, 6 small loaf pans – 30-35 min, Muffin tins – 20-25 min.
Here is a fun new twist I learned from a friend for any kind of bread or muffin. Right when the muffins or loafs come out of the oven, spread butter all over the top. Then get some cinnamon and sugar and sprinkle it on top too. When they are warm, they are a delicious treat. They are perfect for breakfast.
Another tip: shred 2 cups of zucchini at a time and place in freezer bags. Now you will have zucchini for bread anytime of the year.
Have fun with your Zucchini. Hopefully it doesn't get out of control like mine. I am needing more ideas for Zucchini. What do you make with yours?