It's that time of year to start thinking about gifts to give to family and friends, and this Holiday Peppermint Muddy Buddies mix is the best! Maybe even for a classroom teacher or two. This is the best homemade treat that everyone you know will love. I promise, it will be the hit of the season!
With the holidays upon us, we're gearing up for the season of gift giving! Not only do we love to gift our family, friends and neighbors, we also want to celebrate and thank our school teachers. I'm sharing a yummy recipe for peppermint muddy buddies that are super quick to make and simple to package up for the perfect holiday teacher gift!
Holiday Peppermint Muddy Buddies
I'm partnering with Ziploc® brand, using its festive and reliable Limited Edition Holiday items, for our teacher's holiday gifts and today's peppermint snack. Today, I'm using the Ziploc® brand Freezer Bags with Easy Open Tabs, featuring a wintry snowflake design and colorful Ziploc® brand Containers with One Press Seal. These containers come in the classic red, green and blue, but now they have GOLD!! I love this gold color, as it pairs well for any December holiday, and they look fancy to boot!
Ziploc® brand also wants to relieve some holiday hustle and bustle this year by hosting a Chaos-Free Holiday sweepstakes where one person will have a chance to win $10,000! There are also a variety of instant prizes for travel, meal prep, cleanup and gifts. You can enter online, here: holiday.ziploc.com.
Here's how we made our munchable muddy buddies, using Ziploc® brand bags and containers, for gift giving this holiday season!
White Chocolate Peppermint Muddy Buddies
Ingredients:
6 cup dry cereal – I used square rice and circle oat cereal
1 cup white chocolate baking chips
1/2 cup crushed peppermints – you can use peppermint candies or candy canes
1/3 cup powder sugar
Method:
Place the peppermint candy canes in a Ziploc® brand Freezer Bag with Easy Open Tabs. Using a rolling pin, repeatedly roll over the candies to crush up the candies into very small pieces, almost a powder-like consistency with a few bigger chunks in there.
Melt your white chocolate baking chips in a microwave safe bowl for 1 minute. Stir. If it needs more melting time, microwave for another 30 seconds. Stir to help melt and incorporate all the chips.
Place your cereal into a gallon size Ziploc® brand Freezer Bag with Easy Open Tabs. Pour your melted chocolate, after it has cooled a bit, over the cereal. Seal up the bag and shake it up.
Mix and stir the bag for 20-30 seconds to coat the cereal with chocolate. The added tab on these makes them easy to grip and easy to open, even if my hands are a little messy from making this recipe! Open up your bag and add in your crushed peppermint. Seal up the bag and shake it up again. Open up your bag once again and add in your powder sugar. Seal the bag and shake it one last time.
Pour your mixed snack into containers. This recipe will fill 2 medium square Ziploc® brand Containers with One Press Seal. Once you add your snack, the white chocolate will cool and solidify, making your muddy buddies easy to break apart and munch on. What I love about these containers is that they feature a One Press Seal, allowing them to snap closed with one simple press of the lid – perfect for my kids.
We added silver glittery yarn around our containers to dress them up, along with a simple handmade gift tag. You can also gift wrap your gift with one of our other 3 Ways to Gift Wrap for the Holidays we shared last year, using crochet, washi tape and pipe cleaners.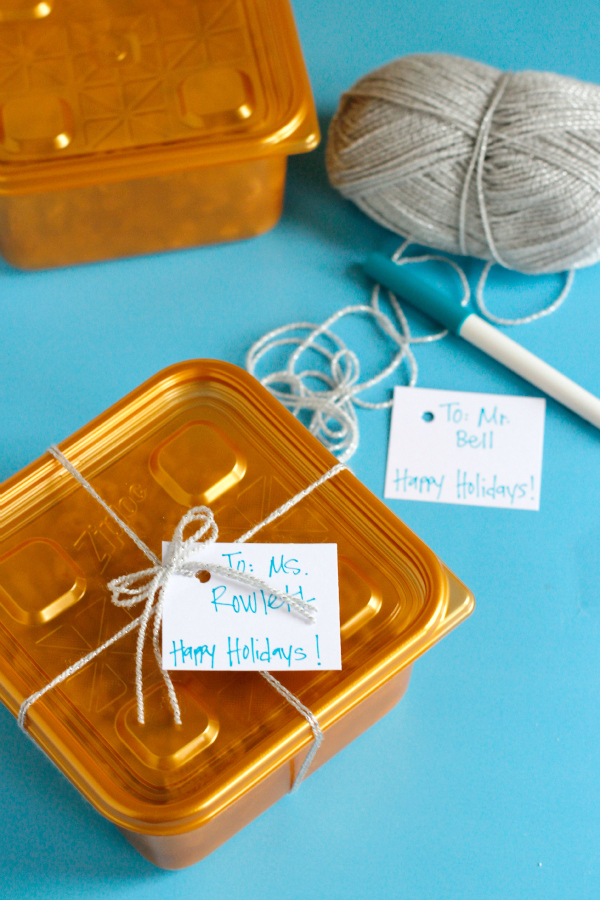 Now our peppermint muddy buddies are ready to gift to our teachers. These containers make for easy, attractive gifts and care packages for gifts during the holidays! Ms. Rowlett and Mr. Bell are going to love a homemade snack to munch on during the holidays!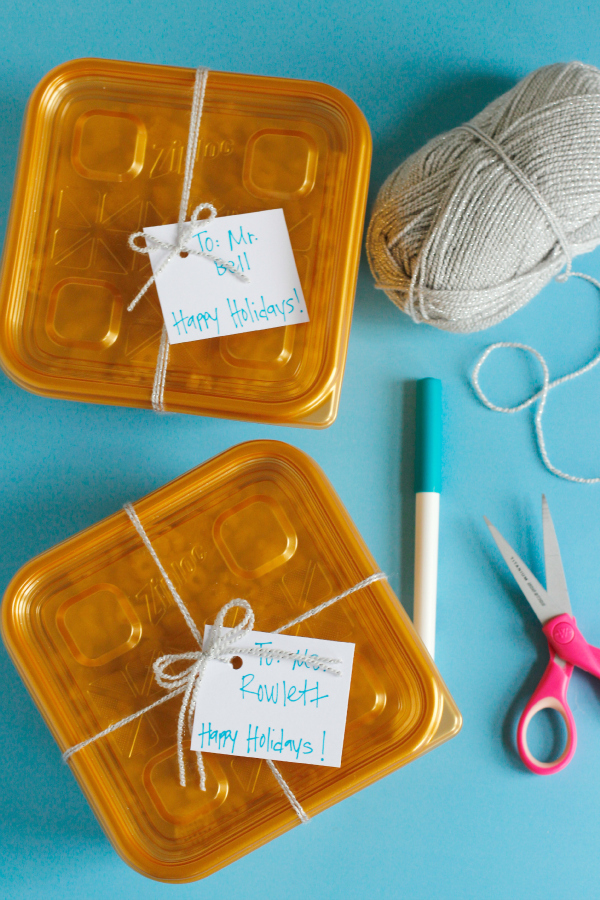 *Thanks to Ziploc® brand for sponsoring this post. Be sure to visit them on Facebook and Pinterest for all sorts of festive ideas and inspiration!
**Originally posted 12/15/15