Let's talk about BBQ sauce. If you are picky like my family, you have a hard time finding a bottled sauce that tastes just like you want it to. Make this recipe for homemade BBQ sauce for your next dinner. A good sauce is paramount for a successful BBQ. Really, it is.
Make Homemade BBQ Sauce
One day I casually flipped through one of my favorite cookbooks, The Joy of Cooking, and looked to see if there was a recipe for BBQ sauce. Of course there was! And not just that–it's a good recipe. A REALLY good recipe. My husband declared it to be the best BBQ sauce ever. (We never exaggerate in our family.)
I have tweaked it a bit, but not too much. You can tweak it too. I've included some variations and other ideas below the recipe.
Homemade Barbecue Sauce

adapted from Joy of Cooking
Ingredients:
1 1/2 cups ketchup
1 cup apple cider vinegar
1 cup packed light brown sugar
1/4 cup soy sauce
1/4 cup Worcestershire sauce
2 Tbsp. molasses (I add this in, it's not in the original recipe)
2 Tbsp. brown mustard (we like Gulden's)
2-4 Tbsp. chili powder (start w/ a little and work up)
1-2 Tbsp. freshly grated ginger (can use 1 tsp. ground ginger)
2 garlic cloves, grated or minced
3 lemon slices, seeds removed (these are optional, but really good)
Salt and pepper, to taste
1/2 tsp. or so liquid smoke (or to taste)
(optional–Tabasco or cayenne to make it extra spicy)
Method:
Mix all the ingredients together in a non-reactive saucepan and simmer on medium low for about 5 minutes. Taste and adjust seasonings.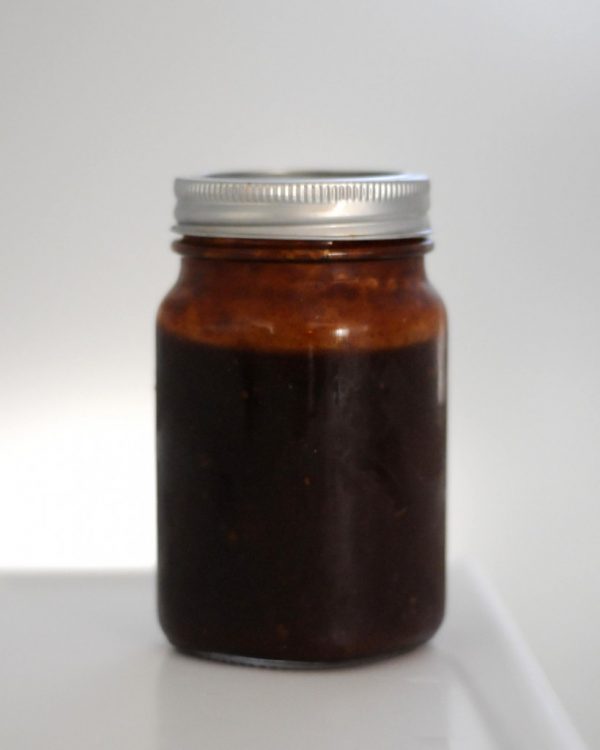 Variations and other ideas:
This sauce is easy to change up. Try substituting peach, apricot, cherry or blackberry jam for some of the sugar. Use red wine vinegar in place of the apple cider vinegar. Add different kinds of chili powder–chipotle, ancho, etc. Add a bit of cumin, cinnamon, cloves, or other spices. Add pineapple and more soy sauce and use with pork for an island flavor.
We have used this sauce to make BBQ baked beans, pulled pork and chicken, mixed with mayo for a spicy sweet fry sauce, and on burgers. Basically, anywhere you'd use store bought sauce, you'd use this instead and it would be 10 times better.
Make a huge batch and bottle it. Take it with you as a hostess gift or use as neighbor gifts at Christmas.  (You can tell them it's a super secret family recipe.)