One of my favorite things about summer is ice cream. Not just any ice cream, but homemade ice cream. Ice cream is the perfect summer treat and homemade is the best. I love experimenting with new flavors, but Blackberry Ice Cream is one of my all time favorites. This is the perfect ice cream for summer because blackberries are in season. I always use fresh, juicy, and plump berries for this recipe.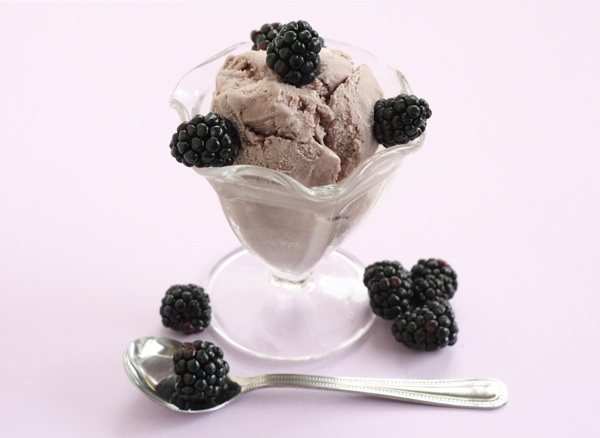 Blackberry Ice Cream
I grew up in Illinois and blackberries grew wild by our house. We used to pick and eat blackberries almost every day in July and August. They were good plain, but we also used them for blackberry cobbler, pie, and ice cream. A scoop of fresh blackberry ice cream always hits the spot. If you are looking for a delicious way to cool down this summer, try a scoop of Blackberry Ice Cream.
Blackberry Ice Cream
Ingredients:
4 cups fresh blackberries
1 ½ cups half and half
1 cup sugar
1 ½ cups heavy cream
4 large egg yolks
1 tablespoon of fresh lemon juice
Method:
1. Puree the blackberries in a food processor or blender. Push the blackberry puree through a strainer with a wooden spoon to remove the seeds. Set blackberry puree aside.
2. In a medium size saucepan, heat the half and half and sugar until the sugar disappears. Pour the cream into a large bowl and set a mesh strainer over the top of it. In another bowl whisk together the egg yolks. Pour some of the warm half and half mixture into the egg yolks, whisking constantly. Add in the rest of the half and half mixture and whisk to combine. Pour this back into the saucepan and stir constantly over medium heat until the mixture coats the back of a wooden spoon.
3. Pour the mixture through the strainer into the cream and mix to combine. Add in the blackberry puree and lemon juice and  stir over an ice bath until chilled. Place the ice cream mixture in the refrigerator for 2-4 hours. Churn the ice cream in an ice cream maker, according to manufacturer's instructions.
Adapted from The Perfect Scoop
More frozen desserts for summer: