Oh yes! Homemade pizza is the only way to go. There are a few non-chain pizzerias that compare, but there is something so yummy and homey about making it yourself. I got the recipe from my sister Sue, who got this recipe from a fabulous Chef named Jason Hess, who got it from Wolfgang Puck while working with him. This dough recipe is simple and delicious. I promise you will have success if you just give it a try.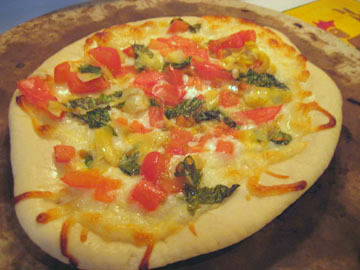 Homemade Pizza Dough
1 T. Yeast
3/4 cup warm water
1 tsp. honey
2 T. Extra virgin olive oil
2-2 1/2 cups flour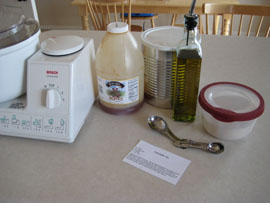 Don't be frightened by the word, YEAST. I have been scared away before by yeast, especially with making bread. But pizza dough is a lot easier and much more forgiving than bread making, I think. First, I get tap water and put it in the microwave for about a minute. I even get out my thermometer and make sure the temp is about 110•. If the water is too hot then the yeast will die, if the water is too cool then the yeast will not get bubbly. Now pour in your water and add your yeast. Since yeast feeds on sugar, add your honey here too. I give it a little mix in the mixer and then let it sit for about 5-10 minutes.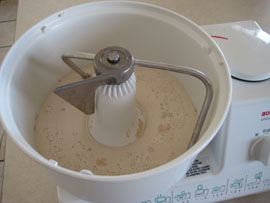 Once your yeast is bubbly, it is time to add the rest of the ingredients. The oil and the flour. When I make this recipe, I make it as is, but this time I tripled it and I ended up not using as much flour. You will be able to tell if there is too much flour, if some flour is not incorporating and you will need to add a little water. Or if there is not enough flour, then the dough will be sticky and you will need to add a little more. You know you have the dough perfect when you give it a little finger pull and the dough is not sticky, but still has some give to it.
Now you need to knead the dough. If you have a good mixer with a mixing tool that can do it for you, then great. But you can take it out and knead it by hand. You will need to knead it for at least 5 minutes. Then let it rise for about 1 hour. I leave my dough right in the mixer. My mixer is a Bosch and it has a lid that helps it stay nice and warm. But you could keep it in the mixer bowl you have or place it in a new bowl and put plastic wrap over it.
Then when it is nice and puffy, at least double it's size, then punch it down and pull it out. Lay it on the counter or a baking mat. I have a lot of dough because I tripled this recipe, but it makes 4 pizzas. Divide the dough up into 4 even chunks.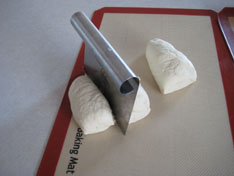 Proceed to roll each chunk into a flat round circle. My pizza never comes out to a perfect circle. I even start it out in a nice round ball, but it wants to go it's own way. But I think that is part of the homemade fun.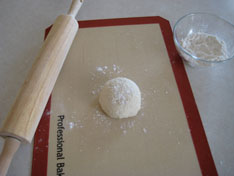 The more pizza I have been making, I keep practicing my Pizza Toss and I am getting a lot better. Try to give your pizza a toss when you make this recipe.
To cook the dough, I like to use a pizza stone. It helps to keep the bottom crisp. You can use a regular pan, but I suggest investing in a pizza stone, they are pretty cheap at Bed Bath and Beyond. My stone is very seasoned, so sorry for the dark appearance. At 400*, I like to cook my dough for a few minutes first to get it started. I pierce it with a fork so that the dough will stay flat. Then I take it out and add my toppings. Then it goes back into the oven of 400* for about 10-12 minutes more or until cheese is brown and bubbly.
We made these with some friends and did a little pizza bar. I had all kinds of toppings: Pepperoni, pizza sauce, mozzarella, artichoke hearts mixed with fresh tomatoes and basil, pesto sauce, and feta cheese. YUMMY. You can add anything you want, even a BBQ chicken pizza would be delicious too. For Matt's pizza, he only wanted cheese and a little basil on each slice.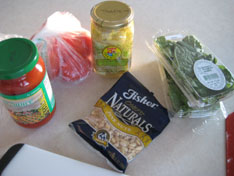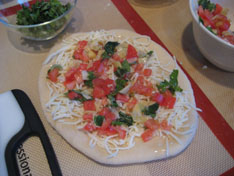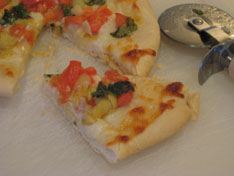 Enjoy the homemade pizza goodness!