Oh, yes they are! I got together with my sister and her husband, Brian, who can make a mean tamale! I asked him to show me how to cook these little gems and if I could share it with you. He made them once for us years ago and I've been craving them ever since. Now I could make them myself, as he walked me through it step by step. It does take the better part of an afternoon to get through, but I promise, they're soooooo worth it!!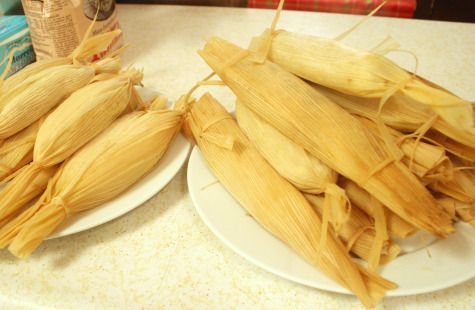 This is probably the most photos I've ever had in a post, but I really want you to see the details of this process. It always helps to follow along and actually make these. Let me know if you do and how it goes!
Recipe for Sweet and Savory Tomatillo Tamales:

UPDATE: This makes around 50 tamales, depending on how much filling you use and how much masa dough comes out.
Tomatillo Chicken Sauce: (we doubled this, so it's more in the photos. We used the extra sauce in quesadillas and tacos later in the week.)
1 onion, peeled & diced
1 garlic clove, peeled whole
1 pablano chili, diced and no seeds (unless you like heat)
5 tomatillos, peeled & cubed
1 T olive oil
salt & pepper to taste
1/4 cup water
1/4 cup sugar
2 lbs. chicken, boneless
Prepare the vegetables and cook them in a pot with the oil and salt and pepper. Let this simmer for 10-15 minutes until they cook down.
Pour this mixture into a blender, adding the 1/4 cup water. Then puree until smooth. Add your sugar and blend again.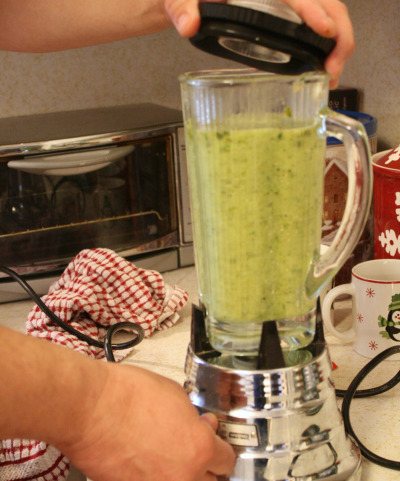 Cook your chicken whole in a pot on medium heat. Let them brown for 5 or so minutes. Then pour your blended sauce onto the chicken. You'll let this simmer for 1 hour, letting all the juices meld.
Once it's cooked through after an hour or so, take 2 forks and shred the meat apart right in the pot. Now it's ready to be the filling.
Corn Husks: start to soak the corn husk just before you start the Masa dough. Once they're soaked, set them on a towel to dry. A few of them will get peeled into strips for tying the tamales later.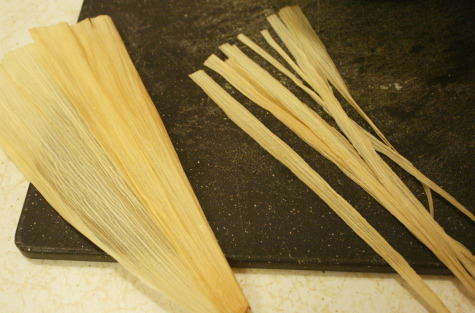 Masa Dough: (this is the same amount as you see in the photos, only our tomatillo sauce was doubled)
8 cups water
1 cup sugar
2 tsp salt
2 chicken boulon cubes
1/2 tsp crushed red pepper flakes
1/2 cup lard (yes, lard. This is found by the shortening or in the Hispanic food isle)
1/2 bag of masa (this is like flour, but it makes a dough. Also found in the Hispanic food isle)
Bring to a boil – the water, sugar, salt, boulon cubes, red pepper, and lard. Once it's at a boil, pour in one cup at a time of masa, and stir. Keep pouring in the masa until you get the consistency of a thick, almost sticky dough. It will start to pull away from the sides. Now it's ready.
Tamale Train Assembly Line:
Tamales need to be steamed, so you will need some sort of steaming pot to cook them in. Brian has a large fun steaming pot he uses just for tamales. But some rice cookers have them or you can use a steaming basket placed in a large cooking pot.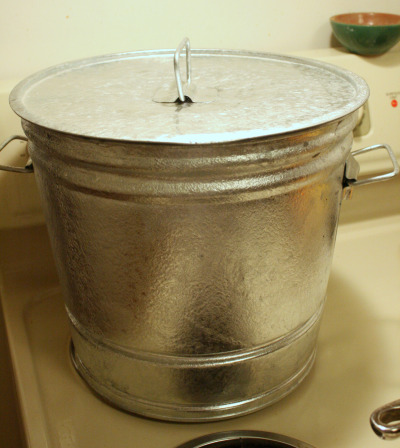 We're ready to assemble these tamales. Line up all your items, the masa dough, the corn husks, the tomatillo sauce, the corn husk strips, and a plate to stack.
Place a heaping spoonful of masa dough onto a corn husk. Using a second corn husk, mash it down into a large oval shape.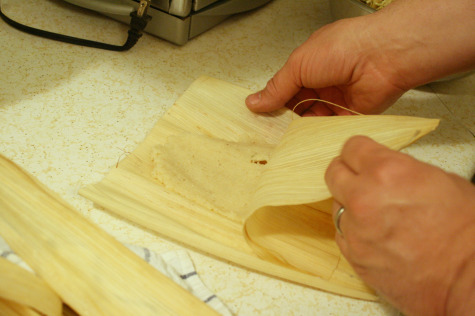 Scoop a spoonful of chicken tomatillo sauce onto the dough. Roll the dough, so that it seals together. The ends don't need to be pressed together, but you do want to shape the dough around the sauce as best as you can.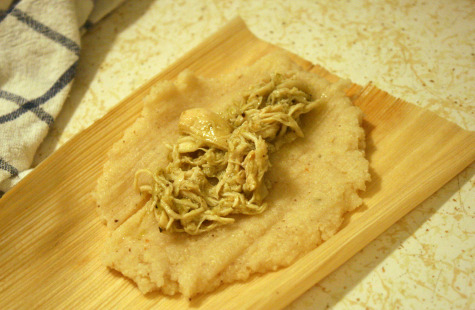 Wrap the corn husk around the dough and tie each end with a strip of corn husk.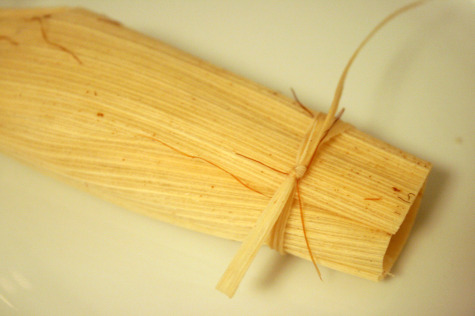 Place them on top of each other in the steamer, criss-cross style. Let them steam for 1 hour.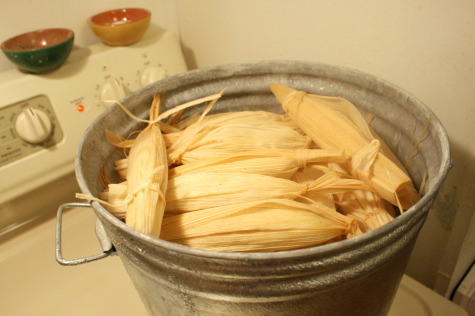 Now it's time to eat and enjoy. You don't need any sauce on top, they're great as is. They would be yummy paired up with some sweet rice or chips and guacamole. And they made a lot of leftovers, so we just heated them up in their husks in the microwave the next day for lunch!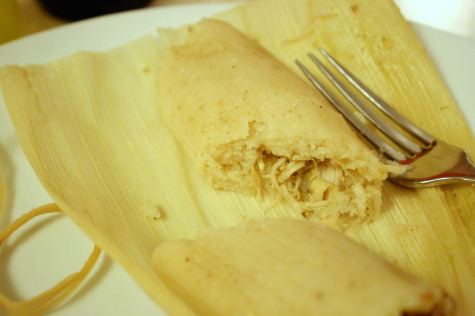 Thanks, Brian, for teaching me how to make "hot" Tamales! Your recipe for Tomatillo Chicken is to die for! You're a master chef who cooks a mean Mexican meal. I know I could make them on my own now, and I will. They were delicious!