My kids love to eat hot dogs for lunch. So I've been trying to serve them a little different to spice things up a bit.
Ollie the Octopus: I found this fun hot dog idea from Easy Recipes for Kids. I cooked the hot dog first. Then cut 8 octopus legs, but left a large section at the top for the head. Even a fun mustard smiley face was drawn on. Then we named the octopus Ollie before he got gobbled up.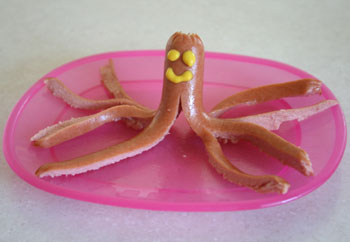 Wiggly Worms: When I did the post about the How to Eat Fried Worms, I had a comment from Abra Leah to make hot dog worms. So of course we had to try it. She says to cut up the hot dog strips, toss them in boiling water for a few minutes, and then drain the water. Now you've got worms for lunch.
Hot Dogs on a Stick: We used the same lollipop sticks from our Grape Pops. These were easy to dip and fun for them to eat.