Storytime this week is from the book, How Are You Peeling? by Joost Elffers & Saxton Freyman. These authors first came out with the book called Play With Your Food where they make different faces and characters out of fruits and veggies. In How Are You Peeling?, they explore different moods and feelings with the faces of these foods.
We enjoyed reading this book, trying to figure out what feeling the fruit or vegetable was expressing. We talked about emotions and what they were, what kinds of things make us happy, sad, angry, or silly. This is a great book introducing feelings and how our faces look when we are mad or sad or happy.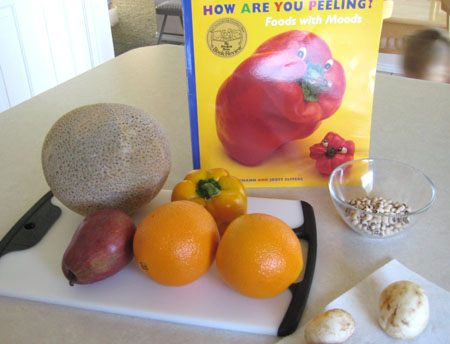 We couldn't wait to celebrate this book. We went to the store and I let the kids pick out a few different produce items. We picked a cantaloupe, pear, yellow pepper, 2 oranges, and 2 mushrooms. Then with Mom's supervision, we carved out mouths and spots for eyes. We used dry black eyed peas for eyes like they do in the book, but I am sure you could use any dry bean you have. My son is making a turtle and my daughter is helping put the eyes in the pear.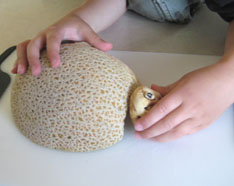 Here is a pouty orange and a spikey haired mushroom.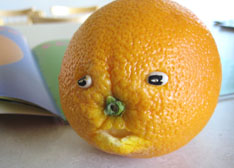 We love our little food with moods. My kids have been playing with them as people and giving them names. It's going to be hard to eat them!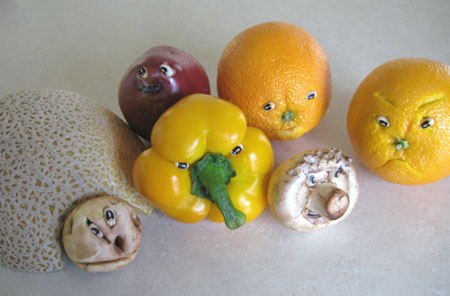 Another great storybook that goes along with feelings and emotions is Today I Feel Silly and Other Moods That Make My Day by Jamie Lee Curtis. It explores all the emotions a child can have and how this little girl deals with them. It's one of my favorites.