Last week, I took our niece to the park for a picnic play date. I packed a basket filled with all of her favorite foods-turkey sandwich, grapes, carrots, and I even made her favorite dessert – rice crispy treats. She didn't want to eat much at the park because she wanted to play, so we saved dessert for later.
When we got home, I jazzed up the rice crispy treats with ice cream. I made a jumbo ice cream sandwich with two rice crispy treats. It was a little messy, but my niece was in heaven. She loved her special treat. I put sprinkles in the rice crispy treats and on the ice cream to add some color and pizazz.
This is a fun treat for summer-the kids will love them! If the rice crispy sandwich is a little much, you can try a rice crispy treat sundae. I went all out, because I have to be the favorite auntie:)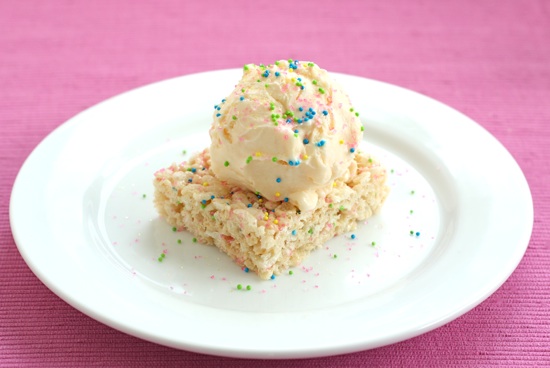 Supplies for Ice Cream Rice Crispy Treats
For the sandwich – take one rice crispy treat and place a scoop on ice cream on top. Smash the scoop of ice cream with another rice crispy treat. Sprinkle sides of ice cream with sprinkles. Enjoy!
For the rice crispy sundae – top one rice crispy treat with a scoop of ice cream. Top with sprinkles (you could even add hot fudge). Enjoy!