If I let my husband decide on the dinner menu every night, he would choose pizza. He could eat pizza for every meal and never get sick of it. I like pizza, but not that much. We usually make pizza once a week. We try to mix things up with new crusts, toppings, and sauces. We also like to grill our pizzas in the summer time. But here's a yummy Veggie Pizza Panini that's delish.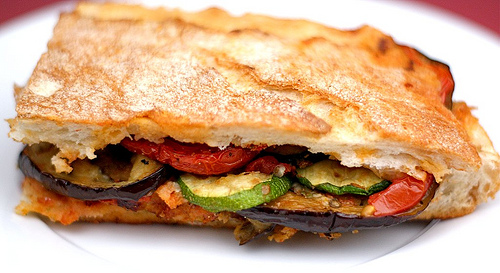 Last Friday we rented a movie and were ready to veg out. We weren't in the mood to cook. Of course, my husband suggested ordering pizza, but I am not a fan of most pizza places. I prefer to make our own. I didn't want to ruin our Friday night pizza tradition, so I created pizza panini's instead.
I used ciabatta bread as the "crust." I had some homemade pizza sauce in the freezer, so I pulled that out and slathered each slice of bread with pizza sauce. I added mozzarella cheese, roasted vegetables, and fresh basil. The hubs made a pepperoni panini-sauce, lots of cheese, and pepperoni. We heated up our panini maker and smashed down our panini's until the cheese was melted and oozing out the sides. If you don't have a panini maker or pan, don't worry, you can use two frying pans-one to heat up the sandwich and one to smash it down.
Our panini's were very tasty and so easy to make. If you are a pizza lover, give these panini's a try. They are perfect for movie night or a "pizza" party!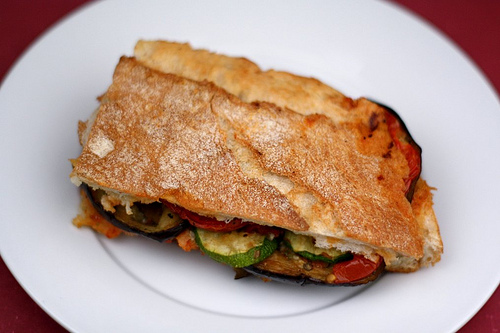 Veggie Pizza Panini

Ingredients:
Ciabatta or Foccacia Bread, sliced
Pizza sauce, homemade or store bought
Mozzarella cheese, sliced
Pizza toppings:
Roasted vegetables-I used eggplant, zucchini, tomatoes, and red pepper
Fresh basil
Method:
1. Take two slices of bread and evenly spread pizza sauce on both slices. On one slice, add mozzarella cheese and pizza toppings of your choice. I used eggplant, zucchini, tomatoes, and red pepper strips. I also added fresh basil. My husband kept it simple with cheese and pepperoni. Put the other slice of bread on top.
2. Place the panini on a hot panini maker and close. Cook until the cheese is melted, about 4-5 minutes. If you don't have a panini maker, use two pans. Heat a small frying pan on the stove. Spray with cooking spray. Place the panini in the pan and smash it down with another frying pan. Press down until the cheese is melted.
3. Cut panini in half and serve hot.