There is a good 10 year period in my life that I have no idea what food I ate or how I got it to my mouth. From the time I left my Mother's nest of amazing home-cooked meals to now becoming the nesting mother in my house, it's all a blur. I have to think back really hard about what I used to eat. I do remember in college eating a lot of spaghetti and trying out something with BBQ sauce, potatoes, and I think zuccini. I cooked breakfast for dinner all the time, and I still do… it's so easy!
Now, I've taken on the task of feeding my family of four and decided that instead of making it a chore, I actually love learning to cook. I love to watch Food Network and Everyday Food, and on the Internet I frequently visit these great recipe websites: Allrecipes and Martha Stewart's recipe page. Cooking for me is mostly fun, but there are times when I am pulling my hair out to find something semi-healthy for my family to eat. We all have our food staples don't we? Mine are pancakes, hot dogs, Mac n' cheese, and scambled eggs, just to name a few.
So to help me get out of the meal ruts, some of my friends and I got together and formed a Recipe Club. Every month, about eight of us visit the "Hosts" house and bring an item of food and the recipe to go with. It's really just an excuse to get out of the house and chit-chat with the gals.
The main idea of Recipe Club is to bring an item of food for everyone to taste and a recipe for everyone to take home. This way you get to try the item and get the recipe to make later or say to only yourself "I'm never going to make that" (sorry ladies, some just don't make the cut).
At first we had themes for our Recipe Nights. We started with everyone bringing soup to our first hostess's house, Rebecca. She had her crockpot going with yummy Minestrone and we each brought a big pot of our own soups with ladles in hand.
Crock Pot Minestrone

1 onion chopped 4 carrots sliced
1 zucchini shredded 1 cloves garlic minced
2 15 oz kidney beans, drained 1 tsp. basil
2 14 oz. beef broth 1 28 oz. crushed tomatoes
½ tsp. oregano ¼ c. parmesan cheese
2 c. elbow macaroni, cooked Salt & pepper to taste

Combine all ingredients in crockpot except macaroni and parmesan. Cover. Cook on low for 7-9 hours or high for 4-5 hours. Stir in macaroni and parmesan when ready to serve. Add 1 lb. cooked hamburger if desired.
Next was at my place for Pasta Night. The Carbs were in the air. There were a lot of left overs for lunch as you can only eat so much pasta.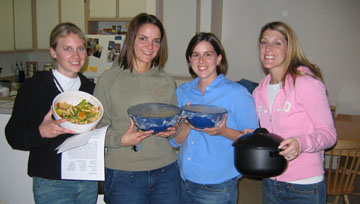 Salmon Pasta (Martha Stewart recipe)

1 Tb. Fennel seeds 1 lb. corkscrew pasta
¼ c. minced fresh parsley 10 oz. spinach, trimmed
1 Tb. Brown sugar ½ c. sour cream
Salt and pepper 1-2 Tbs. Lemon juice
1 lb. salmon ½ c. pasta water

In a zip lock bag, crush fennel seeds and add parsley, brown sugar, ¾ tsp. salt and 1 tsp. pepper. Shake. Press the mix into both sides of the salmon. Broil the salmon until pink about 8-10 min. Flake the fish with a fork. (I just cook my salmon any old way.) In a pot, cook pasta, drain and add the spinach and salmon and toss. In a bowl, mix sour cream, lemon juice to taste, ½ tsp. salt and 2 Tb. water. Mix dressing with pasta and salmon or serve separate. So easy, and very different!
Then on to Salad night at Kara's. A very healthy evening for a change. There were many yummy salad dressings, this one is my all time favorite.
Poppy Seed Dressing – so good

1/3 c. red wine vinegar
1 c. canola oil
1 T. poppy seed
1 tsp. Salt
1 tsp. dry mustard
½ c. sugar

Whisk well and chill for 1 hour.
Then we ended our "one item" themes with Cookie night. Some really good cookies, but I only was able to take little bites of each after eating about ten.
Cake Mix Cookies – very fast and easy!

1 cake mix from a box (I like German Chocolate flavor, you can use any flavor)
2 eggs
½ c. oil
1 c. chocolate chips
nuts optional

Mix and blend cake mix with oil and eggs. Add chocolate chips. Bake at 350? for 8-11 minutes. Take out from the oven when the cookies don't wiggle anymore. Makes 3 dozen.
We decided we needed some variety, so we beefed up our themes. We did Mexican night, Italian night, Low-Calorie night, and a Christmas Holiday food Tradition night. That was fun to see what everyone's food traditions were during the holidays.
We also tried out doing a "main food ingredient" as the theme. Our lovely host chose apples as the main ingredient for everyone's recipes. We had Apple Curry Chicken, Apple Bundt Cake, Apple Enchiladas, and Fruit Salsa. Some other ideas that we haven't gotten to yet could be – cheese, pumpkins, any meat, oranges, or potatoes.
Fruit Salsa

1 quart strawberries, chopped
3-4 green apples, chopped
3 kiwi, chopped
2 T. apple jelly
Sprinkle w/ brown sugar
Juice of 1 orange

Chop fruit items and mix all the ingredients together. Serve with Cinnamon & sugar tortillas.
Lately, we've been lazy about themes and the host does a main dish and the rest sign up to bring all the items in a dinner: appetizer, soup, salad, drink, bread, and dessert or two. I love getting together with my friends and eating good food, and I'm able to take home some fun recipes to try later. Believe me, I need all the help I can get. Gotta run, Paula's Home Cookin' is on!!
More Recipes that make the Cut
Artichoke Dip
1 (14oz.) can Quartered Artichokes
1 (4oz.) can diced green chilies
1 c. Mayonnaise
1 c. grated Parmesan
Dice artichokes into chunk size. Mix all ingredients together in a bowl. Pour and spread into 9×13 pan.
Bake at 350* for 20-25 minutes. Enjoy! Fun to eat with Tortilla chips or French bread slices.
(Double this if it's for more than 5 people.)
French Peasant Bread with Rosemary (like Macaroni Grill Bread)
1 pkg. dry yeast
2 c. warm water
1 T. sugar
2 tsp salt
4 c. flour
1 T Rosemary plus more for topping
Olive Oil
Corn meal
Melted butter and salt
Place yeast, water, and sugar in a warm bowl until dissolved. Add flour, salt, and 1 T Rosemary and stir until blended, do not Knead!! Cover and let rise for 1 hour or until double in size. Flour hands and remove dough. Place in 2 rounds on a cookie sheet lightly coated in oil and sprinkled with corn meal. Let rise another hour. Brush with melted butter and lightly sprinkle with more Rosemary and salt. Bake @ 425 for 10 minutes, then reduce temp to 375 for 15 minutes more. Cool slightly and dip bread in olive oil and balsamic vinegar. Makes 2 round loaves.
Fish Stick Sandwiches – Better than McD's Fish Fillet, I love those!
Buns
2-3 fish sticks per bun
Slice cheddar cheese
and
Tartar sauce:
1 cup mayonnaise
2 teaspoons Dijon mustard
1 tablespoon minced shallots (I didn't use)
1/4 cup finely chopped dill pickle (I didn't use)
1 1/2 teaspoons freshly squeezed lemon juice
Pinch of cayenne pepper
In a medium bowl, mix all the ingredients until well combined. Store, covered, in the refrigerator until ready to serve, up to 2 days. Stir again just before serving. Layer Bun, Fish, Cheese and Tartar sauce to make Yummy Sanwiches.