These little jack o' lantern cookie lollipops are just the treat to give to your own little ghosts and ghouls! Kids can have fun dipping and decorating each pumpkin's lollipop face, making them come alive.
Jack o' Lantern Cookie Lollipops
Supplies:
Creme filled cookies – double stuf works best
Lollipop sticks – any size length
white chocolate, melted and tinted with orange food coloring
green spiced gum drops
black writing frosting
Method:
1. Add your lollipop stick through your white creme filling.
2. Dip your cookie into the melted orange tinted white chocolate. Make sure it is covered all over. I used my spoon to help get it all covered.
3. Lay your dipped cookies onto wax paper to cool and harden. I like to place these in the freezer for 10 minutes, to make the hardening process go quicker.
4. Before it hardens, add one green gum drop to the top. If your cookies harden before you add the gum drop stem, you can use a toothpick to attach it to the top of the cookie.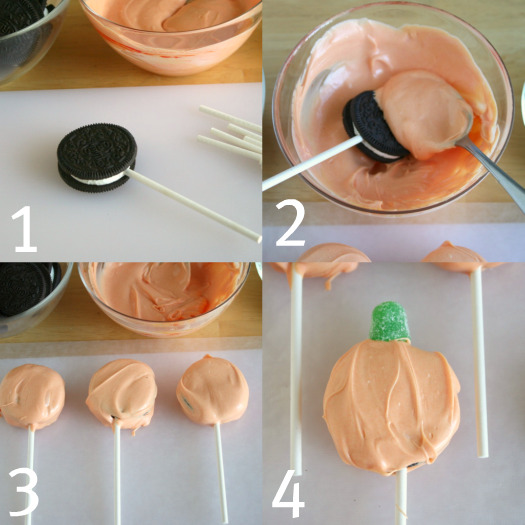 5. Once your dipped cookies are hard, add the writable frosting to the front, making a spooky jack o' lantern face.
You're pumpkin cookie lollipops are ready to munch!
You can package these up in individual plastic baggies and tie with a Halloween ribbon. They would be the perfect treats to give out for Trick or Treating!