I am feeling rather lazy in the kitchen these days, so this puff pastry tart is the perfect recipe to make for dinner. The thought of a gourmet meal each night does sound dreamy…when someone else washes the dishes or does the actual cooking. A lot of planning and thought goes into fancy meals. Lately I'm just not up for it.  Spring is around the corner, and who wants to spend the afternoon in the kitchen?
Enter our friends: frozen puff pastry, cream cheese, goat cheese, and leeks.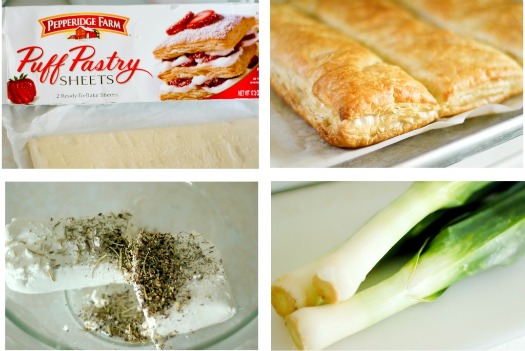 Puff Pastry Tart
Puff pastry is that versatile, luscious, pastry dough that puffs up (hence the name) to epic heights in a hot oven and results in the flakiest crust you can imagine. I never make my own.  It's so easy to buy it and keep it on hand in your freezer. All it needs is a little time to thaw before you use it. Stick it in the fridge overnight or in the morning so it's ready for use the next evening.
When making flatbread/pizzas/tarts with puff pastry, it's a good idea to roll it out on parchment paper–not to be confused with waxed paper–and place it on a baking sheet.  Lining the baking sheet will  help the crust brown evenly and it won't stick.  Pre-baking is necessary when you are using puff pastry in this way so the pastry has a chance to sufficiently brown and crisp up.
I've used leeks and goat cheese here–a classic pairing and very appropriate for Spring.  Mix it up and try different cheeses and veggies. Any cheese with good melting properties would be fabulous. You can leave out the cream cheese entirely. Add roasted root veggies or tomatoes. Throw some arugula or baby greens on top of the baked tart. Sprinkle with a little bacon or other cured meats. (A little preparation and planning might be needed if you don't normally keep these ingredients on hand.)
It's hard to go wrong when puff pasty is so right.
Leek and Goat Cheese Puff Pastry Tart
Ingredients:
1 sheet puff pastry (I like Pepperidge Farms)
3 leeks, sliced–white and light green parts only
2 Tbsp. butter, canola, or olive oil (your choice)
1/4 tsp. sea salt
4 oz. cream cheese
4 oz. goat cheese
1/4 tsp each: dried thyme, rosemary, savory
freshly ground black pepper
Method:
Preheat oven to 425 degrees.
Roll out puff pastry and place on a parchment lined baking sheet. Bake pastry for 20 minutes, or until puffed and golden. Remove from oven and press down lightly on the top of the pasty with a spatula to release the air.
Meanwhile, heat a large skillet over medium-high heat and add the butter or oil to the pan. Add the leeks and sprinkle with sea salt; saute until they soften and start to take on a bit of golden color. Set aside until ready to use.
In a medium bowl, beat the cream and goat cheese, herbs and black pepper on low until well mixed. (It will be a little "crumbly" in texture, not smooth and creamy. If you'd prefer smooth and creamy, add a bit of cream or milk and beat until smooth.)
Spread, or sprinkle, the cheese mixture evenly over the baked puff pasty. Top with the sauteed leeks. Lower the oven temperature to 350 degrees and bake the tart for an additional 20 minutes, or until the cheese has melted sufficiently.
Cut into squares and serve. Serves 4-6 as a side dish.
Add a simple salad and a fruity dessert to this indulgent (read: rich) tart and you've got a great meal to wow your friends and family and fool them into thinking you spent hours in the kitchen.