Super Bowl Sunday is right around the corner, are you ready for the big game?  I love football, but the highlight of my day is usually the food. I love making tasty snacks and treats for our guests. One of my favorite football snacks is loaded nachos. They are easy to make and they are the perfect game day snack.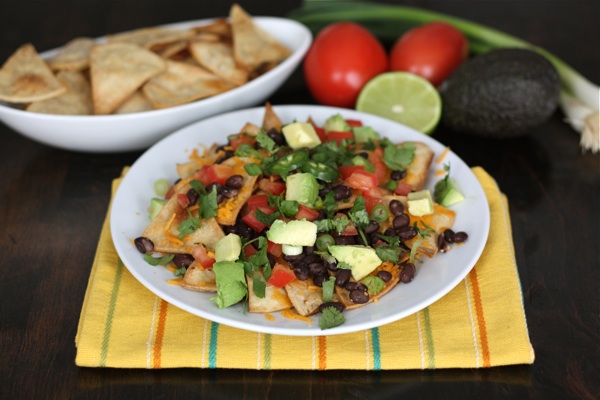 We make homemade baked tortilla chips and load them with toppings. A few of our favorites are cheese, black beans, tomatoes, cilantro, avocado, jalapeno slices, and green onion. If you want to add shredded chicken or sour cream, go for it. For parties, I like to set out a variety of toppings so everyone can customize their own plate of loaded nachos.
Loaded nachos are always a hit at our Super Bowl parties. Give them a try this year!
Here are a few other football snacks you might like:
Have fun and GO TEAM!
Recipe for Loaded Nachos:
Homemade Baked Tortilla Chips (or store bought chips)
Shredded cheese
Black beans, rinsed, drained, and heated up
Diced tomatoes
Chopped cilantro
Diced avocado
Jalapeno slices
Chopped green onion
Squeeze of fresh lime juice
1. Place chips on a large plate. Top chips with shredded cheese. Place plate in the microwave and heat for 30 seconds, or until cheese is melted.
2. Add remaining toppings to the chips-black beans, tomatoes, cilantro, avocado, jalapeno, green onion, and lime juice. Enjoy!

Maria is a regular contributor to Make and Takes Food. Maria and her husband, Josh, are Two Peas and Their Pod. They are known as the "cooking couple" and are a great team in the kitchen. They love trying new recipes, flavors, and techniques and sharing their creations with the world. They try to keep things healthy, but they always save room for dessert.