As I have been quilting quite a bit lately, a new idea came to my mind a few months back. A Memory Quilt for my Mom and Dad's anniversary. It turned out better than I expected and packed full of fun memories.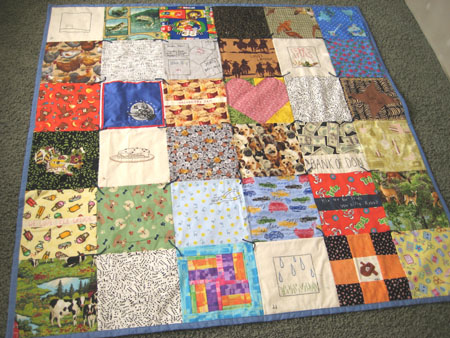 With 8 children, my parents have been through a lot, together for 53 years. I thought it would be fun to get all the siblings to donate fabric for a family quilt. They all came through. Here is a photo of my family below, I am the baby of the family, the cutest one on the bottom right. This was taken sometime in the 80's. I love the hairstyles and brown coordinated clothing.
The 10×10 squares were quilted, stitched, ironed on, and fun printed fabric. Each square represents a memory, something about us, or something fun about my mom and dad. Here are just a few of them explained:
We used to own chickens
We love to play PIT
My mom makes the best chocolate chip pancakes
My mom plays piano and sang in the Mormon Tabernacle Choir
My dad loves to read Louis L'amour books
My dad has taken us all out fishing on his trolling boat
"Good Kid Money" my dad would give us
M&M's my dad loves to give to the grandkids
A large squirrel caught in the house by Jared
Ice Cream is a big part of the Holt house, especially homemade
My dad used to pull our loose teeth out with pliers! Talk to my sister Steph about that one!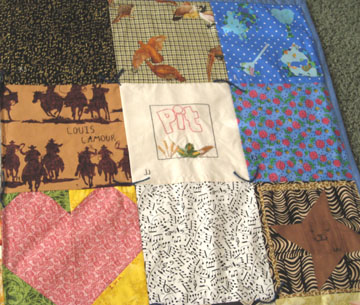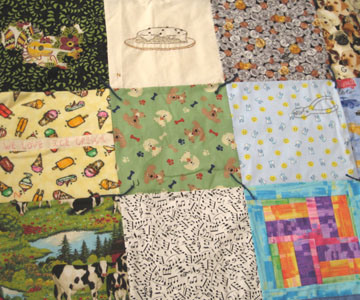 My sister and I presented the top portion to my mom and dad, then we got out my mom's quilt frames and tied it all together. I am so excited for how it turned out. Thank you to all my loving family for helping me put this fun idea together. Happy Anniversary, Mom and Dad.